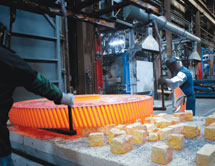 It's pretty typical that no one thinks about a machine's parts until something breaks and the machine no longer works properly. But the people at Xtek think about these issues constantly.
Formed in 1909, the company manufactures and reconditions custom-machined and heat-treated parts and component assemblies for heavy-duty industrial applications.
"Probably 80 percent of our customers are steel mills," President and CEO Kyle Seymour says. However, the company also provides support to power generation, pulp and paper, and mineral processing equipment. Xtek's traditional businesses have facilities in Sharonville, Ohio; Hammond, Ind.; and Plzen, Czech Republic. In recent years, the company has expanded into the "below-the-hook" lifting equipment market with acquisitions of Bradley Lifting in York, Pa., Bushman Equipment in Milwaukee, and Avon Engineering in Hamilton, Ontario.
Xtek's clients use very large, specialized equipment that is required to operate in very harsh environments. Because of these demands, handling, repairing and assembling these parts takes a special level of expertise that Xtek can provide.
"It may seem straightforward to repair a gear box," Seymour says, "but when that gear box is the size of a car it becomes a much more complex issue."
"Xtek provides aftermarket replacement as well as reconditioned parts for these types of machines," Seymour says.
When a customer has a piece of equipment that needs to be serviced, the firm's technicians will break it down and inspect it to determine what can be reused and what needs to be replaced. The company will recondition used parts or produce new parts including brake wheels, track or crane wheels; overhead crane parts and sheave wheels; gear couplings and u-joints, mill gearing, mill pinions and custom gears; as well as pinch rolls, forged work rolls and other special-purpose processing rolls.
"For a typical machined component, we purchase the forging and perform machine operations," Seymour notes. "What is integral to our service is the heat treatment process that Xtek can provide."
He explains that these heavily loaded industrial components must be replaced due to wear, pitting and spalling, or metal fatigue breakage. These issues are influenced by the metal's surface hardness and microstructure that is developed by the heat-treating technology used during the component's manufacture. Because these properties are critical to the wear life of these components, Xtek engineers developed the Tool Steel Process (TSP).
TSP is a unique heat-treating process that greatly enhances the strength and durability of these machined components. Developed initially for gear wheels, this method of carburization generates a uniform depth of hardness across the entire profile of a part.
"The majority of the parts we produce go through a carburization or heat treat process," Seymour says. "[Xtek] is expert at dealing with that and all of the finishing processes required to ensure that part not only makes the machine operate properly, but also ensures a longer lifespan."
For example, a typical drive shaft on a roll stand at a steel rolling mill may wear out in six to eight months. "Xtek's expertise lies in using metallurgy and heat treatment to make these components last much longer," he says.
Astute Owners
Operating as an employee stock ownership plan (ESOP) has reaped several benefits. "Since 2001, we've been 100 percent employee owned," Seymour boasts. "This gives us some unique tax advantages."
Due to this arrangement, Xtek can defer federal taxes until an employee retires. "We don't have to pay annual taxes," he says. "We use those funds to reinvest in our business." Xtek has experienced an annual growth rate of 15 percent in its share value, a benefit that flows directly to the retirement accounts of its employee owners.
He adds that not only are employees invested financially, they are also very astute owners. "Because the employees are in an ownership position, they are very conscious of business decisions and have a strong understanding of what works for our business," he notes. "If some employees are goofing off, there are many shareholders nearby to remind them to get back on task." The financial benefits of Xtek's ESOP also have facilitated  investment in state-of-the-art equipment, such as CAD 3-D modeling systems.
"Because they're 3-D and smart systems, they can determine any flaws during the design phase," Seymour says. "Our CNC machine tools ensure there is quality built into the standardized programs to minimize flaws.  They have also shortened the training cycle for new employees, allowing us to grow faster and to broaden our hiring to include people who are less skilled."
Modern network and video equipment enables XTEK to concentrate its resources without sending employees off site. "We recently completed an inspection and assembly of a drive shaft at our facility in the Czech Republic," he notes. "Our U.S.-based engineer was able to supervise via video hookup."
Looking toward the future, Seymour would like to expand Xtek's services to accommodate shipyards, renewable energy companies and nuclear energy concerns. "We'd like to expand within our current markets as well as broaden our business into those areas," he says.
"We're most proud of the fact that we are a mid-sized U.S.-based manufacturing company that is able to operate in a global playing field," he adds. "We take care of our client's problems in a manner that keeps them running and profitable."