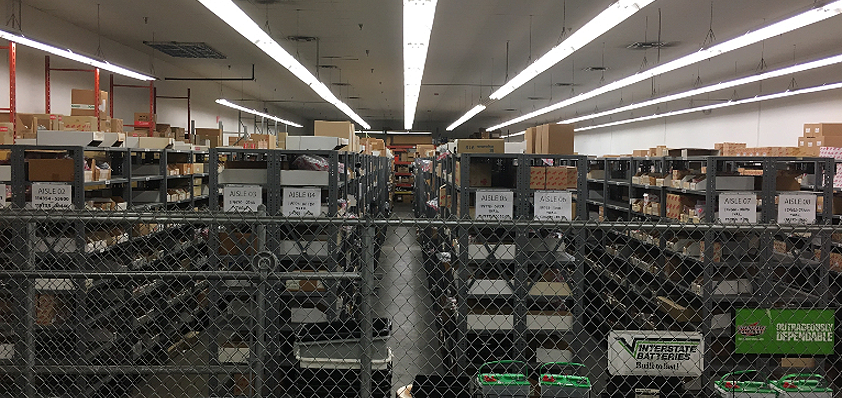 YANMAR Mastry Engine Center
Offering a rare capability to provide ideal solutions based on each individual customer's needs, YANMAR Mastry Engine Center benefits from decades of experience and expertise combined with high levels of specialist technical skills. Still evolving after more than 55 years in operation, YANMAR Mastry prides itself on providing equipment and creating innovative customized packages that are uniquely adapted for each application.
Based in St. Petersburg, Fla., YANMAR Mastry specializes in sales, engineering, service, repower and parts support for engine, powertrain and equipment applications. Founder D. Eugene Mastry started the company more than a half century ago, after moving to Florida from Belize.
The firm originally began as an engine distributorship for Perkins Engines Co. Ltd. and Chrysler Gas in the marine industry. But in 1973, it became a distributor for YANMAR CO. LTD.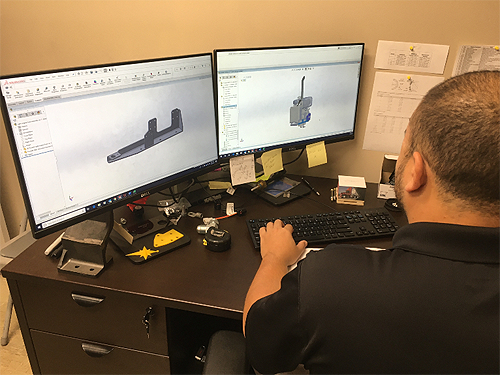 Today, YANMAR Mastry has several divisions, including its MasPower unit, which provides generators, pumps, pressure washers and other products.
The firm also has its YANMAR Industrial division, which sells to OEMs. It is one of the largest distributors for YANMAR diesel engines and is the leading Suzuki engine dealer in the U.S. through its Suzuki Repower business. The company also distributes JCB industrial diesel engines and Torqeedo electric propulsion options.
Industrial Sales Manager Arley Bedillion said: "We started building MasPower products using YANMAR engines for customers in the Caribbean and Central and South America. We are continuing to grow our range of equipment within each product line, such as our electric power solutions portfolio. Each division has its own crew that focuses solely on that product line, which keeps our sales strategy very focused."
A Complete Solution
YANMAR Mastry's ability to make its own equipment has set it apart from competitors. The company is also proud to be a solution provider to its customers.
President Kevin Carlan says: "Our real specialty is sourcing products and equipment that can't easily be found on the shelf. We send our team to learn about our customers' applications and give each one of them the best solution. We're very unique in that aspect."
YANMAR Mastry also provides its customers with a guarantee that if the product does not operate effectively, the company will resolve any issues.
"We will make it right," adds Carlan. "If they need a custom housing, we want to be involved in that. We try to sell them a complete solution."
YANMAR Mastry is involved in the complete assembly of power packs whenever possible and also contributes to the drawing and modeling processes. Bedillion adds: "We sell engines to equipment manufacturers, but we also manufacture our own equipment."
Strong Savings
YANMAR Mastry has recently launched several new additions to its product lines, including its two-and-a-half- and three-inch engine driven portable high-pressure pumps, as well as its new trash pump and AG/dewatering pump. All four products are EPA certified.
"The reason we developed them is because the EPA put stricter emissions restrictions on diesel engines," said Bedillion. "In our experience, farmers prefer diesel. For heavy duty use fuel consumption, diesel offers savings in the long-term over gas."
By using diesel, farmers spend less time carrying fuel cans to their machines in the field. "Small little diesels will outlast the gas and use a lot less fuel," he states. "It also will save them money over time."
Essential Efforts
Quality control is a major focus for YANMAR Mastry, which performs checks on its products before they leave its shop, such as a field test and a run test. "Everything gets run before it leaves," Carlan says.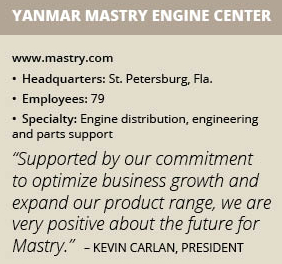 "Everything is double and triple checked before it goes to the customer," Bedillion says.
The employee who performs the tests also uses a checklist to make sure all the necessary areas are covered. "All of that is stored on record," Carlan says. "This ensures that any problems that occur with the equipment happen before it leaves the facility."
Inventory also is an important area of focus for YANMAR Mastry. Recently, the company added forecasting modules to its ERP system and started holding inventory meetings with department heads to review its forecasts. The process has proved to be very rewarding for YANMAR Mastry in the past year.
"We make sure the guys in the field agree with what we're tracking," Carlan says. "We consider those meetings to be very important."
Up to Speed
Carlan and Bedillion, who each have at least 20-plus years with YANMAR Mastry, are proud of its team.
"Everybody has a passion for the industry that we're in," Bedillion says. "We want people to love what they do."
Carlan adds: "The employees' enthusiasm for meeting clients' needs has earned it a strong rate of repeat business. We live or die by that. We have high buy-in from our team."
The company has rewarded this passion with fun activities, as well as training to make sure they stay current with industry regulations. Recently, YANMAR invested in its team with the opening of a new training facility in Acworth, Ga., which YANMAR Mastry utilizes.
It also has launched a new online learning program to help them earn industry certifications. "We're investing a lot of time and money in making sure these guys are up to date with the latest technology and processes," Bedillion says.
Big Opportunities
Carlan sees a strong future ahead for YANMAR Mastry. "There are big opportunities on the table for us that we're considering," he says.
"Our management group is focused on finding new products that will enhance and complement our product portfolio so we can continue to offer our customers a really unique service. Supported by our commitment to optimize business growth and expand our product range, we are very positive about the future for Mastry."