Laser precision
Yelo has grown into a leading player in the photonics testing industry, delivering its products to big manufacturers in the USA
2018 will mark the 35th anniversary of Yelo, a Northern Ireland-based leading manufacturer of automated test equipment for the photonics and electronics industries. When the company was founded in 1983, it consisted only of the two co-founders – Richard Furey and Allan Watts, but today, over three decades later, it numbers a team of 40, including electronic engineers, mechanical design engineers, software developers, and test/ commissioning/support engineers. The company has also taken its tally to 300 test systems installed internationally, and this figure continues to rise. Richard, who is Yelo's Managing Director, draws us into the business' history and updates us on its activities and recent developments.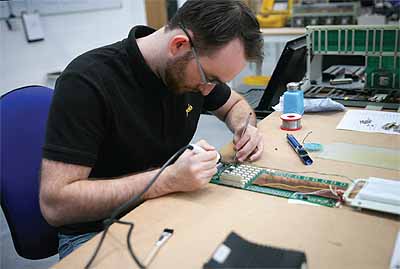 "During the first eight years, we would work only on consultancy and bespoke test systems. Our first breakthrough came in 1991 when we launched our maiden product, which we called TestPoint, and it was a benchtop Electrical Test Equipment (ETE) system for functional testing of circuit boards. This heralded a successful ten-year period for us that saw us sell over 600 systems across the UK," he remembers. In 2000, the company was bought by a Canadian entity called Mindready and it was then that the Yelo team began developing what is now considered its trademark activity, photonics testing. After eight years, another Canadian company – Averna, acquired Mindready, but following a management buyout in 2010, Yelo was brought back to the UK as an individual brand. "Since then our staff has grown from 20 to 40, and our revenue from one to five million pounds," Richard remarks.
For Yelo, 2017 was a year of substantial infrastructural development, complemented by the reception of several large-scale orders from big companies, resulting in a 25 per cent increase in revenue. "We moved into our new factory in Carrickfergus in July. It is a facility spreading over 25,000 square feet, which is a considerable increase from the 18,000 square feet we previously had. The wider space allows us to work on larger orders and manufacture more systems at the same time, more efficiently. We have also introduced additional equipment, in the form of three Computer Numerical Control (CNC) mills and a CNC lathe, which we had no space for before," Richard details. "The larger building has also enabled us to designate dedicated design suites, including mechanical engineering, software, and electrical. These facilities contribute essentially to the improved communication between the engineers and the designers on the manufacturing team. The new premises make the environment nicer to work in, and there is an additional benefit for the employees that it is adjacent to the train station, so their access to public transport has been deliberately made easier."
The company's specialism is in manufacturing equipment that tests the reliability of laser devices. This is done through a process called burn-in, and its goal is to ensure complete functionality, and remove any potentially defective devices from reaching the field. Richard emphasises the necessity to seek constant improvement when performing the testing, as technology evolves dramatically all the time and a more precise and refined approach is required: "We continually develop new methodologies to keep abreast of technology and satisfy changing customer needs. For example, ten years ago, the electrical contact we had to make on a device, might have been five square millimetres, whilst now it is only one square millimetre."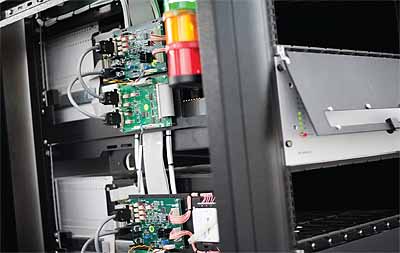 The industry in which Yelo's products find broadest application is communications. "We are testing a lot of high-speed communications lasers that are used as the backbone of the internet within data sensors," Richard points out, revealing that 70 per cent of the business is orientated towards the communications industry. He also discusses the strongest geographical markets for the company: "We are very well-positioned in the USA, China, and Thailand. These are the places where the big technological leaps in the communications market happen. All the big manufacturers we deal with are based in the USA, but there is also a growing industry in China. And Thailand is a place with large subcontract manufacturers specialised in the area. We would like to grow in Europe too, as there are certainly clusters on the continent that we are keen to develop. The same can be said about the UK, but it really depends a lot on how and where technology changes. At the moment, we are mainly focused on targeting the areas where the biggest chunk of business is."
Yelo has established a strong reputation for developing home grown talent over the years, thanks to its regular collaboration with local educational institutions. Richard provides us with a bit more detail of the nature of these partnerships: "We often recruit fresh graduates and are more than happy to train them and invest in their qualifications development. We also regularly take university students on one-year placements, and generally encourage visits from local universities that give us the opportunity to talk about what we do. The company attempts to outreach schools too, and it sponsors two students every year through the Arkwright Scholarship scheme, which aims to promote engineering at GCSE-level," he explains.
Richard expects that the success from 2017 will be carried into 2018, as he outlines the company's plans for the next 12 months: "We hope to see continued growth and an increase in the number of clients we have. It is important for the business to continue to add new clients. Even now I am at a trade show in San Francisco and it is at such events that we tend to expand our client portfolio," he notes. "Another significant development in 2018 will be the opening of an office in Shanghai to help us serve the Chinese market in the years to come. While I do not expect new products coming out this year, we will continue to invest heavily in R&D. We have three to four full-time employees, who take care of product development, and our goal is to remain a leader in our field," he concludes.
Yelo
Products: Laser diode testing and electronic testing equipment