YSI Inc. is working to better forecast customer demand to reduce inventory while still meeting its customers' rigorous quality and delivery expectations.
At YSI Inc., every employee has a sense of pride in knowing that the products they manufacture today will become vital tools in helping industry and government professionals protect the planet's natural resources. "We provide high-quality, high-resolution data for the people who manage the environment," General Manager Dave Barclay says. "It's important work and I came to YSI because I feel like I make a difference in the way the world looks and helping people understand the way the environment works."
YSI, a Xylem Analytics brand, is a leading provider of water measurement solutions that monitor important parameters in surface water, such as rivers, lakes, streams and oceans. Its environmental products are used for climate change and drought studies, flood monitoring and warning, stormwater runoff monitoring, groundwater quantification and contamination, aquaculture production, source water safety, as well as wastewater process control.
The Yellow Springs, Ohio-based company's water measurement solutions are deployed in the field to monitor everything from pH levels, turbidity, temperature, chloride, chlorophyll, ammonia and more. Its multiparameter sonde, which is French for tube, is a three-foot-long tube with a range of sensors on one end and a battery or power source connection on the other end. "We are the market leader and stay ahead of the competition from a technology standpoint," Barclay adds. "Our sensors and the quality of the data we provide is far superior."
Over the past 70 years, YSI has diversified its offerings into five distinct product lines. The company began in 1948 with a thermistor technology focus. In the 1960s the Clarke Oxygen Electrode revolutionized Dissolved Oxygen (DO) measurement and moved the company into the Life Science laboratory space. It then expanded into outdoor water quality products, which includes multiparameter instruments, aquaculture monitoring systems, handheld sampling instruments and line of Water Level and Velocity products. "All those product lines are moving in different directions and that's the challenge," Barclay notes. "Our product mix is high margin, low volume, high mix – a very challenging environment in which to keep inventory optimized."
Forecasting Demand
At its facility in Yellow Springs, YSI focuses on the research and development of world-class instruments and assembles those concepts into the final product. The company operates a stage-gate process where new product development is divided into distinct stages, separated by decision points known as gates. "We are researching and developing new products all the time and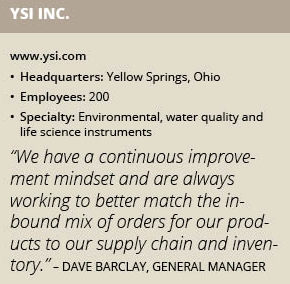 have many projects in different stages and gates at the same time," Barclay says. "We align that process with the operations side to ensure engineering, manufacturing and service are involved early on to ensure a smooth transition into manufacturing."
Even as the company has continued to grow and develop new products, YSI has taken 30 percent out of its inventory over the past three years and maintained on-time delivery around 90 percent. "Seventy percent of our customers request a delivery date in seven days and 30 percent request delivery in three days," Barclay explains. "We have been reducing our inventory over the past few years, so maintaining a 90 percent on-time delivery rate is a challenge when our customers want their products within three to five days."
Correctly forecasting demand is key in maintaining on-time delivery while reducing inventory levels. To achieve this, YSI implemented a robust S&OP process to gather information from several avenues. "There is close communication between sales, operations and the product managers on each line to forecast our demand," Barclay explains. "We have a continuous improvement mindset and are always working to better match the inbound mix of orders for our products to our supply chain and inventory. We are constantly providing feedback on their forecast and checking the sensibility of it."
There is a delicate balance between inventory levels and meeting customer delivery expectations, Barclay says. "Our customers want three things – performance, good customer service and delivery when they want it – and the operations part of the building is exceeding the delivery expectation," he adds. "Quality is only as good as our customer says it is through a net promoter score (NPS) and our NPS score is 58, which is excellent."
From new product development through the supply chain and manufacturing to the final product, YSI says its partners have been key to its success. "We have partners both internal and external, up and down the supply chain that work together to produce products quickly to meet and exceed customer expectations," Barclay says. "The supply chain responds really quickly to changes in demand and we have a number of suppliers that are really responsive and helpful."
Moving forward, YSI will continue to produce world-class field water and laboratory instruments while working every day to get better at forecasting the demand to maintain its on-time delivery rate and reduce inventory. "In September, our biggest product line's orders came in 50 percent over budget and we had about five weeks' warning that would happen, but we managed to turn and ship it through capacity adjustments in a short period of time," Barclay remembers. "I'm proud of that. It was a strain on our supply chain, but our suppliers responded quickly and our capacity was able to adjust because people were cross-trained to respond to that demand. Not many manufacturers could have done that."