Realms of opportunity
One of the biggest producers of elemental chlorine-free (ECF) bleached softwood sulphate pulp in Central and Eastern Europe, Zellstoff Poels AG aims to strengthen its foothold through increased investment and strategic expansion
Located in Poels, Austria, Zellstoff Poels has a history dating back to 1700, when Ferdinand Fuerst Schwarzenberg launched the Reifensteiner Paper Mill east of Poels, directly below Reifenstein Castle. Steeped in the tradition of paper manufacturing, the mill began industrial pulp production in 1905 and industrial paper production in 1910. Following a strategic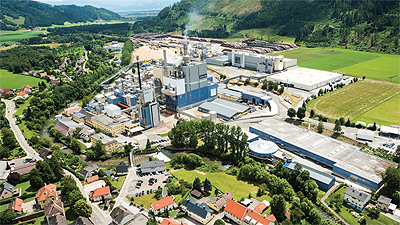 acquisition in 1921, the installation of the first pulp bleaching facility at the mill took place in 1961, with further investments in new machinery coinciding with innovative developments in the market over the next 56 years.
"From our early history that began on 1st July 1700, when the first paper was produced, to present day we have grown significantly into a company with a turnover of 251 million euros and approximately 430 employees, including around 30 apprentices," says Andreas Vogel, CEO of Zellstoff Poels AG.
He continues: "It is here that we produce bleached softwood sulphate pulp under the market name Orion, as well as Starkraft, which is the market name for the bleached kraft paper we manufacture on our new paper machine. The capacity of both production sites is about 430,000 tonnes for pulp and 80,000 tonnes for bleached kraft paper. Orion pulp is mainly used by customers in the paper and packaging sectors, which includes paper industries including printing, writing and magazine paper. We also work for customers in the hygiene products sector. Customers of high quality Orion pulp are mainly based in Italy, Austria, Slovenia, France and Germany. The premium grade bleached kraft paper Starkraft, meanwhile, is applied in the production of packaging and special application for a wide range of customers in markets such as medical and food. At the moment we sell the majority of our paper to customers in Europe, but it is also exported overseas."
In 2000, Zellstoff Poels was acquired by Heinzel Group, an independent value provider in the marketing, sales, logistics and financial services in the pulp, packaging and paper business. Creating tailor-made solutions for suppliers and customers in international markets, while focusing on its company values of entrepreneurship, respect and excellence, Heinzel Group is comprised of the Austria based Zellstoff Poels and Laakirchen Papier AG, Germany based Raubling Papier GmbH and Estonia based AS Estonian Cell. Complementing the operations of these industrial firms is the group's trading division, which is comprised of Wilfried Heinzel AG, a globally active pulp and paper trading firm and Europapier AG, the leading paper merchant in the CCE region. There is also Bunzl & Biach, one of the largest and most important waste paper treatment and distribution companies in Austria, which is also the leading wholesaler in Central and Eastern Europe.
Discussing the benefits of being part of Heinzel Group, Andreas comments "Between 2005 and 2016, Heinzel Group has invested 420 million euros into Zellstoff Poels, which is a lot of money for our mill. One major investment was in a state-of-the-art paper machine, which was acquired in 2013 and has enabled us to process more than 1200 metres of paper per minute, while also extensively expanding capacity up to 80,000 tonnes. This paper machine also has the biggest welded, highest precision Yankee Cylinder (drying cylinder) in the world at 6.7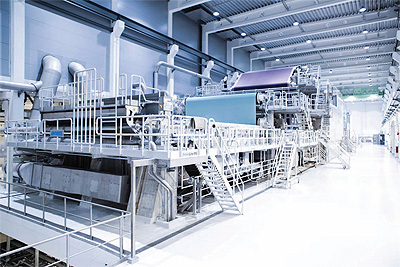 metres in diameter. This investment has shown our commitment to investing in the blossoming paper and pulp market, which is set to continue growing over the next 12 months. As a result of this positive growth, we will invest in another further increase in capacity to 455,000 tonnes of pulp by the end of 2017."
Alongside investments to increase volume and quality, the company has also recently invested in enhancing its environmental footprint, which has resulted in its products being classed as carbon dioxide neutral. "In the first quarter of 2014, our recovery boiler had major damage and repairing it took until the final quarter of 2015. Thanks to the choices made during this investment, we now have the most modern recovery boiler on this site, with the best safety equipment and extremely good emission values, so we truly are cutting edge when it comes to environmental issues," highlights Andreas.
Indeed, over recent years the company has become increasingly focused on environmentally friendly operations, which resulted in Zellstoff Poels winning the Climate Protection Award 2014 for its Bioenergy Aichfeld project. This project involved generating the waste heat from pulp production for the past three years to provide a sustainable, environmentally friendly and regional heat supply for over 15,000 households in the greater Aichfeld region. Processing approximately two million cubic metres of thinning wood and sawmill chips into both pulp and paper, Zellstoff Poels worked with Bioenergie Waermeservice GmbH, an expert for district heating and waste recovery systems to use waste heat in a sensible manner in combination with an existing biomass heating plant and a storage solution that has large-district-pressure reservoirs. The project also reduced CO2 emissions by approximately 32,000 tonnes and enabled an annual saving of 60,000 fm wood.
With increased capacity Zellstoff Poels is setting firm foundations for the future that are strengthened by a growing pulp and paper market. "These investments will aid in our goal of becoming one of the most efficient and environmentally friendly pulp and paper mills in Europe," Andreas concludes.
Zellstoff Poels AG
Products: Manufactures elemental chlorine-free (ECF) bleached softwood sulphate pulp and bleached kraft paper