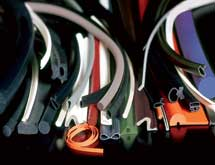 When we close doors and windows, we like to feel secure that their tight seals will not let any unwanted air, smoke, fire, noise or rain in. That feeling of security is what Zero International Inc. strives to provide with its gasketing products. Based in the Bronx, N.Y., Zero International's lines also include hinges, saddles, thresholds and flood barrier shields. The company started operations in 1924 as a manufacturer of mosquito screens.
By the late 1950s, however, door gasketing became Zero International's primary focus. Today, President Elias Wexler says the company employs a staff of more than 125 and serves a customer base that includes door manufacturers, glass companies and woodworking shops.
Along with its two locations in the Bronx, the company has factories in North Carolina, Ohio and in the United Kingdom. In addition, "We have a distribution center in Las Vegas and in Japan," he notes.
Zero International has set itself apart from competitors with the high quality of its products, Wexler says. "Design and manufacturing quality is not a process which is done today and finished tomorrow," he declares. "It's on ongoing process.
"It's an essential part of who we are and what we do," Wexler continues. "We supply products engineered for the best possible performance. Every product that we manufacture is inspected again and again before it is [sent] out."
Wexler highlights the superior performance of Zero's acoustical gasketing systems as an example of what the company has achieved by its focus on quality. "This is not multipurpose gasketing – we design it specifically for acoustics," he says, noting that Zero also "formulates and produces the special-purpose rubber in these systems to achieve the highest possible levels of sound control."
Staying Active
A veteran of engineering, Wexler joined Zero International in the late 1970s to manage its project development. "I learned to love this industry," he recalls. "I understand the need for different products. Al­though it's a relatively small industry, it is governed by many codes and standards that are often complex and constantly evolving. We do a good job staying on top of changing requirements. Many building codes are written to help protect lives, and Zero has made life safety a major focus of our product development efforts."
Adapting and Adjusting
Among the many changes that Zero International has seen in its industry are increased efforts to protect people from acts of terrorism.  For example, the company recently finished a hotel project in New York City, which met owner specifications for sealing doors to protect guests from effects of potential biological attacks.
"There will be absolutely no leakage through the doorways to those rooms," Wexler says.
He notes that national standards now require fire doors to block the passage of smoke. "Smoke gasketing is another Zero specialty that continues to set a standard for industry compliance," he says.
He adds that he is proud of the skills of Zero's employees. "We de­sign and build our own automated production systems," Wexler says, citing complete automated extrusion and geared hinge lines as examples.
"We are really impressed by what we can do here in-house," he says. "Every time a new machine goes online that improves quality, that makes us happy."
While Zero International has felt effects from the drop of construction activity, Wexler says, "Our reputation, focus on quality, and specialized applications have helped us weather the downturn with a much lower hit to sales than most of the industry."
Zero International, however, has suspended hiring new workers. "We are putting more emphasis on growing the skills of our employees by retraining in multiple functions," he says. "It's on ongoing process, but we already know it's working."