The Circular Economy is set to unleash a manufacturing revolution – it's little wonder Scotland is embracing it
From the steam engine to the cash machine, Scotland has always punched above its weight when it comes to innovation. These ideas transformed the way we live and helped meet the demands of a changing world. At Zero Waste Scotland, we want to channel that inventive spirit to find solutions to the economic and climate challenges of today.
Today, it's not enough to have inventive products – the manufacturing process must be equal to the resource and environmental pressures we face. That's why more and more businesses are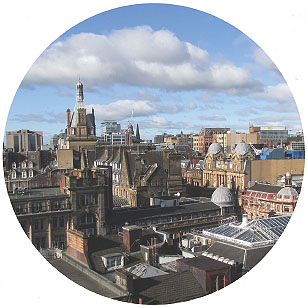 embracing the circular economy, which has the potential to unlock an innovation revolution in Scotland and across the world.
The circular economy is one that's sustainable and eliminates waste as much as possible. Where in the past, materials have been extracted, products manufactured, used, and then thrown away, the circular economy is about making things last. It's about developing new business models, designing products more smartly, remanufacturing and reprocessing to create new products from old, and repairing what we can – all to keep products and materials within the economy for as long as possible. This is not just a matter of being good for the planet – it can give businesses a competitive edge.
Scotland has developed a reputation as one of Europe's leading circular economy nations, a reputation that helped the country secure the award for Circular Economy Nations and Regions from the World Economic Forum at the high-profile Circulars Awards in 2017.
One recent innovation comes from Highland Galvanizers. They are pioneering a new approach to recoating road crash barriers to make sure they last longer – an idea that could save hundreds of thousands of pounds for Scotland's national transport agency and is more environmentally efficient than replacing them.
It's this kind of thinking that will be on display at this year's Circular Economy Hotspot Scotland event. Following large-scale inaugural events in The Netherlands and Luxembourg, Scotland will welcome leading businesses and policy makers to our event from 30 October to 1 November. Zero Waste Scotland will be hosting, with funding support from the European Regional Development Fund.
Maintaining this kind of progress is only possible if you're open to new ideas, and willing to question long-standing assumptions. Hotspot delegates will hear from United Nations Champion of the Earth 2016, Dr Leyla Acaroglu, whose disruptive design methods will be an invitation to all of us to challenge our sustainability approaches. We're also delighted to be welcoming Janez Potočnik, the former European Commissioner for the Environment as a guest speaker. Not only did he pioneer the implementation of the circular economy at EU level, he was also instrumental in creating Europe's landmark legislation on cutting plastic bag use.
The best way to get to grips with the circular economy is to meet the businesses that are already making it happen. That's why we'll be getting out of the conference hall and visiting many of Scotland's leading circular economy entrepreneurs.
Our manufacturing discovery tour will show delegates how our mission to make things last is happening across the Scottish manufacturing landscape with visits to businesses operating circular approaches.
Delegates can also choose the plastics solutions tour, which will show how Scotland is working towards innovative plastics solutions through developing circular businesses. There you can hear from businesses offering innovative alternatives to single-use plastic items. In addition, you will visit the Scottish Plastic Recycling Centre of Excellence at Impact Solutions and hear about Project Beacon, a global-first partnership project to open an Advanced Plastics Reprocessing Facility in 2019.
Scotland recently became the first part of the UK to announce plans for a deposit return scheme for drinks containers. With deposit return schemes already successful in Sweden, Norway, Germany and elsewhere, we have been able to turn to our neighbours for inspiration. Learning from each other and sharing best practice is going to play a vital role in Europe's transition to a circular economy and we hope you will join us in Scotland from 30 October to 1 November so we can work together to make it happen.
Book your place today at.
www.circulareconomyhotspot.scot
E: CEHotspot@speak.co.uk
T: +44(0)131 557 1288