A better way
Always searching for a better way of doing things, Zeus Packaging is set to remain focused on innovation and continuous improvement in 2021
With revenues in excess of €200 million and 430 employees across a globally operating network, Zeus Packaging is one of the largest companies of its kind in the UK and Ireland. However, despite the company name, Zeus is about more than just packaging – it is a leading innovator and an expert in providing credible bespoke packaging solutions.
Zeus solved its first problem in 1998. The company was founded by Brian O'Sullivan when he identified significant demand in Ireland for the service-based supply of packaging consumables. What began with pallet wrap and self-adhesive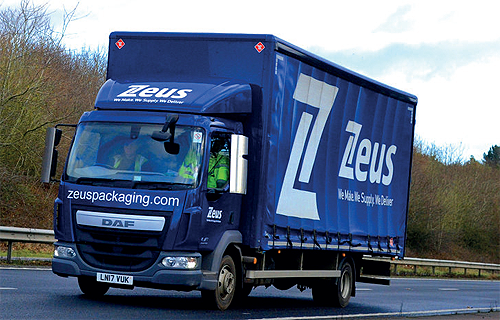 tape grew into a full industrial packaging offering that now includes transit packaging and ecommerce solutions, as well as standard and bespoke corrugated packaging.
Since 1998, Zeus has further developed its packaging portfolio across the Agricultural, Food Service and Retail sectors. Around ten per cent of the firm's current turnover is derived from agricultural packaging, where products include hay baling and straw bailing for use in the production of animal forage & bedding. Food service is worth around 50 per cent of Zeus' turnover and includes the manufacture and distribution of coffee cups, food containers and other consumables for coffee shops, restaurants, retail deli counters and food processing operations around the world. Lastly, Zeus' retail offering manufactures and distributes compostable paper bags, bags for life, mailing bags and packaging consumables – the latter of which proves increasingly popular since the Covid-19 outbreak – for major retailers, including Morrisons, River Island and ASOS.
Headquartered in Dublin, Zeus boasts locations in the UK, Poland, Germany & Spain, Asia, North America, Canada, New Zealand and Australia. At present, the company retains a strong market share in Ireland where it also manufacturers toilet rolls and paper toweling. Zeus has multiple manufacturing partnerships and technology investments across the globe with capability & capacity in the pallet wrap, food packaging and paper bag sector. The business has recently invested in CAD table capabilities and advanced design software meaning that Zeus can work in collaboration with other manufacturers to offer innovative bespoke services and solutions for its customers with extremely rapid turnaround times.
As of 2021, Zeus has over one million square feet in distribution space to its name and though it predominantly uses its own transport, the company maintains strong links with carriers in various markets. Treating each of its projects with equal care and attention, the firm continues to work on European supply contracts with customers when applicable and assesses potential local distribution channels when this is more relevant.
Zeus' CEO Keith Ockenden joined the company in 2019. Despite its already established global footprint and the substantial capabilities that accompany that, Keith believes that Zeus is still evolving. There is always room, Keith argues, for improvement.
"I am grateful for the opportunity to work with Zeus. In the year I joined, Zeus made six acquisitions that have now been integrated, supporting economies of scale and strengthening our capabilities in various market sectors. We plan to growth further, not only through acquisition, but also through attrition and market share growth," Keith explains. "The business is in transition, we have invested in organisational structure and strengthened our internal capabilities in Marketing, HR and Purchasing. More investment in IT, consolidating and integrating our back-office functions will help to drive efficiencies, leverage the economies of scale and improve overall communication and coordination across previously independent businesses.'
"We have recently installed a new board and executive leadership team, which is made up of people who have grown with the business. Part of my responsibility is to coach better communication, a togetherness into the group, encourage standardisation and streamlining in our approach. We plan further acquisition and it is important the integration process unlocks the expected value for our business. Our future strategy will see further growth across Europe, investment in the supply chain, through manufacturing and distribution, developing our BTB and BTC capabilities."
Keith's words encapsulate a relentless pursuit of improvement that has always been interwoven into Zeus' DNA. In order to expand further however, the company will be aiming to build on the key elements that have brought it success for the last two decades. Perhaps the most important of these factors is the commitment and dedication of the company's staff, whom Keith praises for their 'energy, drive, ambition and can-do attitude. Our staff just love competing!.
Customer service is another area for which Zeus has become renowned and upon which the company hopes to build in the future. By focusing on industry best practices and sourcing quality products from across the globe, Zeus continues to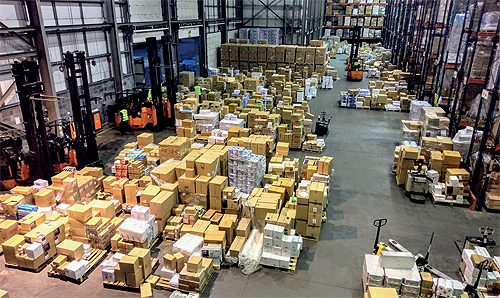 add value for its clients through service that Keith describes as 'unconditional.
Finally, Zeus has established itself as one of the industry's most innovative organizations and Keith believes that maintaining this status will be vital to the firm's future growth. In order for Zeus to continue finding tailored solutions for its customers' specific and individual needs, innovation will be key.
"We do not wish to be another 'me too company'. It is about truly understanding the needs of the customer. Packaging is a solution, a component part of their need," Keith states. "We really enjoy getting to know our clients and understanding how we can improve their processes, productivity, efficiency, and reduce damages, waste and look to see who we can improve their business through the use of innovative environmentally sustainable packaging. We are not driven by how much more pallet wrap we can sell to a customer, but rather, about understanding their real drivers and expectations, then look to innovate credible solutions that meet their needs and deliver more value."
Over the course of its history, Zeus has developed a number of industry-defining innovations. Recently, these have included an intuitive, retro-fit, 24/7 pallet wrapping monitoring system with the ability to save businesses tens of thousands of euros in inefficient use of pallet wrap material. Compatible with a wide variety of machinery types, the system monitors turntable speeds, load weight, the wrap cycle, as well as the % stretch through the pre-stretcher unit, the amount of wrap being used, before calibrating the information into a bespoke software where it can be presented to an operator in real-time giving the ability to calculate, manage and optimise
"Developed internally by our own engineers, the pallet wrapping monitoring system demonstrates a machine's actual versus the optimal performance and therefore helps operators to understand the true cost of wrapping a pallet," Keith says. "It will be launched and rolled out on a wide-scale basis later this year and will deliver huge environmental benefits to the industry alongside massive cost savings. We are already introducing this to one of our major retailers because they recognize the need to drive efficiencies."
Though it's been a challenging 12 months for Zeus and its industry colleagues, the company was quick to adapt and respond to the Covid-19 pandemic and is now reaping the benefits as a result. Thanks to good communication and the decisiveness of its workforce, the firm remained open and operational throughout the crisis as an essential supplier to the food service and manufacturing sectors.
"Covid-19 has led us to restructure our business around a different way of working," Keith declares. "I believe that this has resulted in greater productivity, more flexibility in the way our staff work and a lower cost base. The whole sector is now adapting around customer needs. E Commerce & Food Takeaway packaging demand has risen substantially and continues to grow its overall percentage of our total sales on an annual basis.
"The speed at which the business is adapting, and will be prepared to adapt in the future, has been an important milestone for us over the last 12 months."
Over the coming year, Zeus will remain focused on growth through acquisition and attrition, as well as streamlining and standardizing a number of its internal processes. More investment is expected in ERP and IT systems, and innovative solutions for improvement in the area of sustainability and the environment will be at the very top of the company's agenda.
"If we look at where we can unlock more value in our business in the future, it will be through innovation & differentiation, refining our business process to the highest standards, continuing to eliminate waste in the supply chain. If we can do that, we will improve customer satisfaction, revenues will continue to grow. As long as we keep our costs and budgets in check, we will make profit and reinvest in the whole process and go around again!" Keith predicts. "Market share growth through attrition won't be at the expense of margin, it will be because we are reliable, trusted, innovative and focussed on the needs of the customer, we will do exactly what we say we are going to do."
Zeus Packaging
Products: Packaging solutions
www.zeuspackaging.com