Heavy metal
Following ten years of research and development, ZincOX Resources Plc has developed an energy efficient solution to recovering zinc from electric arc furnace dust (EAFD).
With a long term objective to operate a network of recycling plants in close proximity to each of the key steel recycling regions in the world, ZincOx has selected an existing iron making technology that has been optimised to ensure high level of zinc and iron recovery without generating any waste. A technically, economically and environmentally superior solution to the issue of EAFD (a hazardous waste generated by the recycling of steel scrap) ZincOx's game-changing process is currently in operation at its flagship recycling plant in Korea.


Discussing the background behind the company's recycling strategy, Chief Executive Officer at ZincOx Andrew Woollett says: "The biggest use for zinc is in galvanizing steel, which protects it from rusting, when that object reaches the end of its life it is recycled for its steel. However, when it is remelted, zinc, which is a relatively volatile element, boils off and is collected in special filters as a dust with other base metals before the furnace gasses are evacuated into the atmosphere. Known as EAFD, this dust contains approximately 25 per cent zinc, 35 per cent iron and 30 per cent oxygen; the rest is made up of relatively small amount of carbon magnesium, aluminum and silica, among other chemical compounds.
"We take this dust, which at 25 per cent zinc is a high-grade source, from the steel mill and provide a complete service in treating it; this includes the management and transportation of the dust to our central site. So far around 18 mills supply to us in Korea from eight different companies, including the biggest steel recyclers in Korea such as Hyundai and Dongkuk."
The process starts when EAFD is brought to the site in sealed bulk carrier trucks and transferred pneumatically into silos from which it is blended and mixed with pulverized coal and a binding agent; the mixture is then turned into briquettes that are heated to harden the mixture and remove water. The hard briquettes are fed into the rotating annular hearth of the furnace before being evacuated after rotating approximately 320 degrees, a process that takes approximately 15 minutes. While there, the zinc and other volatile elements are removed as gasses, while the iron is reduced to metal that is mixed with other residual slag components before it is put through a hot briquetting process to form a hard stable iron product. The offgas is cooled to allow filtration for the recovery of zinc, lead and other oxides as a fine white dust that is stored in a silo before it is packaged in sealed bulk carrier trucks and sent to a zinc smelter.
Beginning production in Korea in April 2012, ZincOx's first recycling plant (KRP) cost $112 million and has been fully financed by equity (55 per cent) and debt (45 per cent). Once operating at full capacity it is anticipated to produce approximately 83,000 tpa of high grade zinc concentrate (HZO) and 79,000 tpa of a low quality intermediate iron (ZHBI); The high grade concentrate, at 64.5 per cent zinc, is suitable for sale to zinc smelters.
"Having dedicated years to the development of this game-changing process, our innovative technology has been built for the first time in Korea, approximately 12 kilometres from Pohang, a major steel area in the south east of the country. Our plant recovers the high quality zinc, which is then sold to Korea Zinc, the third largest zinc metal producer in the world, which is based only 60 kilometres away. Meanwhile, the low quality iron product, notwithstanding the initial enthusiasm shown by the Korean steel industry, has yet to make any sales contracts but we are running some tests and are hopeful that by the end of this exercise there will indeed be customers able to take this material," says Andrew.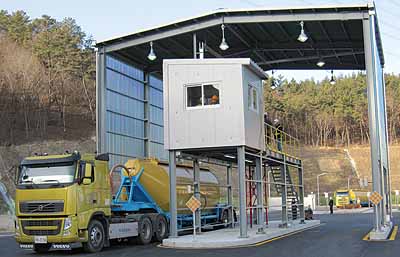 With record production from the KRP in the first quarter of 2015, ZincOx has seen throughput at the plant increase by 17 per cent, with the amount of EAFD treated rising to 36,783 tonnes from 31,379 tonnes in the final quarter of 2014. The plant is currently operating at about 90 per cent of its target throughput per day, and is generating revenue and confidence for the company and its shareholders.
Exciting additional potential can be realised as a result of the exceptional quality of the zinc concentrate. "Our zinc intermediate concentrate is better than we could have possibly imagined before we built the plant. We have found a way to cheaply upgrade it to a zinc oxide chemical of industrial quality that doubles our revenue per tonne of zinc," says Andrew. The additional processes for upgrading zinc concentrate and a melter means the EAFD is fully recycled on one site. ZincOx calls this its 'Full Cycle' approach.
"Unfortunately we cannot take advantage of this in Korea as the concentrate is contracted to Korea Zinc until 2027. Nevertheless, as we will roll this technology out across the globe we will be able to use the Full Cycle approach. It is our goal to develop a network of recycling plants over the next three to five years, particularly in the Far East, where a network and full synergy can be created between four or five different sites," he concludes.
ZincOx Resources Plc
Products: Zinc metal and zinc oxide
Sites: Worldwide
Employees: 79 worldwide including contracted staff