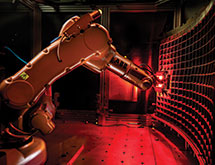 As the aerospace industry ramps up production, its suppliers must, too. This is creating challenges for Zodiac Aerospace's advanced composites and engineered materials division that the company is meeting with aggressive expansion. The advanced composites and engineered materials division produces honeycomb core, engineered plastics, primary and secondary composite details and assemblies, as well as metal fabrication and formulations, including structural adhesives for the aerospace industry.
The division also manufactures prepregs, which are a preimpregnated fiber woven with adhesive in it. "As you form it under heat and pressure, you can shape it into various parts," explains Cynthia Raynor, president of the advanced composites and engineered materials division. The heat causes the resin to flow, and when it is cooled in the preshape, it makes a hard plastic part.
These products and parts are used in seats, galleys, lavatories, closets, cockpit doors, bulkheads, ceiling panels, overhead bins and sidewalls, as well as structural assemblies such as fuselage frames, shear-ties and landing gear pods. "Zodiac is a big company with a lot of different groups, but the division that I'm the president of is responsible for the development and manufacture of the raw materials that go into the fabrication of interiors, as well as manufacturing our structural composites," Raynor notes.
Zodiac Aerospace's advanced composites and engineered materials division has a total of seven manufacturing plants: three at its Marysville, Wash., campus; one in Newport, Wash.; two in Southern California; and another facility located in Tijuana, Mexico. The plants have a combined 650,000 square feet of manufacturing space and approximately 2,000 employees.
Production Increased
Production of honeycomb core sandwich panels has increased. "Just in the last year, we implemented an additional C4 honeycomb line, which in essence doubled our capacity for the creation of honeycomb core," Raynor says. "We added a second line and put in all the machinery and equipment to do that. The machinery and equipment is more automated and updated to increase our output. We're actually in the process of incorporating new resin treaters that will be implemented this year, which will increase our efficiency and capacity."
The advanced composites facility in Marysville has approximately 250,000 square feet and about 675 employees. "We manufacture primary and secondary structural components for the aerospace industry," Raynor says. "Recently, we've invested in a new 15- by 40-foot autoclave. We've also added a robotic inspection cell for nondestructive testing, as well as robotic technology for the visual inspection of composite details." The autoclave is used to make composites tougher.
Zodiac's engineered plastics site encloses approximately 110,000 square feet and employs 270 employees. "We've recently invested in new injection molding machines, as well as five-axes CNC machines to increase our capacity and our efficiency, as well," Raynor says. Many interior components for aircraft are injection-molded or vacuum-formed to replace heavier metal components.
More and More
With delivery of aircraft such as A320s, 787s, A350s and 737s increasing, ramping up production is becoming increasingly important. Zodiac provides components for commercial and military aircraft including passenger aircraft, freighters, fighter jets, business jets, helicopters and very light jets. With the economy improving, aircraft OEMs are demanding faster turnaround times, which require suppliers such as Zodiac to increase output and improve efficiency.
"It's a very competitive industry," Raynor emphasizes. "The challenge is to be able to meet those increased rates by increasing our output and improving our efficiency.
"We're continually working to improve our operational efficiencies to support our customers' needs," she adds. "We strive to provide our customers with unparalleled service."
Besides designing parts and components, Zodiac Aerospace also designs the tooling to produce the parts. "We work together with customers closely and tightly through the development and design phase and then into manufacturing," Raynor asserts. "Through that, we've been able to forge great relationships. Our development teams work very well together as we're developing new products. Our focus is really on the conversion of metal to plastic, as well as the introduction of new materials and processes that will provide lighter and more cost-effective solutions."
Delivery methods for components depend on how a customer uses them. "If they're set up for just-in-time and that's how they want it delivered, we're very adept at that," Raynor declares. "Then we have other customers who want us to deliver more in bulk on certain intervals, and we'll do that, as well."
Worldwide Business
Zodiac Aerospace is AS9100 and Nadcap-certified for quality assurance. It supplies aircraft components worldwide to such farflung locations as Malaysia, Japan and Italy. "It's such a global marketplace today, you can't even imagine all the things that you get contacted for every day by people from other countries to manufacture," Raynor says. "How they've heard of you and where the parts are going and where they end up is amazing."
This makes for an active supply chain. "We have a very diverse supply chain with parts coming in from all over the world and going out to all over the world," Raynor points out. "So that's always a challenge in itself."
Zodiac Aerospace's businesses provide a wide range of aircraft components, such as cabins and structures, seats, galleys and equipment.
"Zodiac is a very diverse company with facilities all over the world, and I think that diversity really helps us to be who we are," Raynor maintains.
Competition varies depending on what segment of Zodiac is being compared. "If you look at what Zodiac does as a whole, there's very few competitors," Raynor maintains. "If you break it down to individual businesses in Zodiac, there might be more competitors for that one item, but if you look at Zodiac's overall capability to provide integrated solutions, there are very few competitors."
For the future, Raynor sees the development of more advanced composites for larger primary and secondary structural components in aircraft. "For our engineered materials, it's really about the expansion of our product offerings in terms of our formulations, and continuing to review those offerings and bring lighter weight and more cost-effective solutions to the market," she concludes.