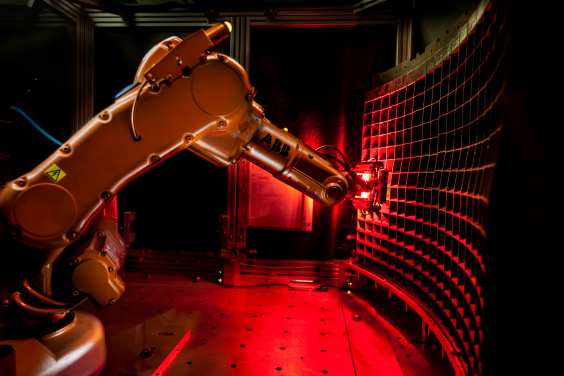 As a world leader in the aerospace industry, Zodiac Aerospace manufactures state-of-the-art aerospace equipment and highly technological systems on board commercial regional, business and military aircrafts, and helicopters to boost their performance and enhance flight safety. The company also supplies fully integrated cabin interiors, which is everything passengers see when they board an airplane.
Cynthia Raynor, CEO of the Advanced Composites and Engineered Materials Division, joined the company 22 years ago. Her division manufactures prepregs, honeycomb core, honeycomb panels, formulated resins, engineered plastics, metal details and structural carbon composites. "We're a highly vertical integrated company," she says. "This gives us the ability to provide everything from raw materials to component, to assemblies, as well as fully integrated cabin interiors, systems and structures
Raynor oversees several manufacturing sites located in Thailand, Tunisia, France, the United States and Mexico, all of which manufacture a lot of the raw materials and some assemblies used throughout all of Zodiac Aerospace, as well as providing directly to the OEMs. "We're delivering highly engineered products with superior quality and delivering them on time, every time is a must," Raynor says.
Raynor and her team work to stay at the forefront of the industry to overcome aerospace industry challenges. Some of the challenges include reducing the weight and bulk of on-board equipment and systems to improve aircraft performance while also reducing cost for customers. In addition, the company is introducing new functions and designs, as well as comprehensive and integrated cabin solutions that make a real difference in the marketplace for airlines and improve passenger comfort and developing new safety systems that contribute to improving the safety of air travel.
"We're always trying to produce lighter parts more cost effectively," Raynor explains. "We must hit the higher rates for OEMs. These are challenging, so we have to stay at the forefront of the industry with technological changes in the industry so we can continue to be a world-class leader."
Always Adapting
Across its manufacturing plants, Zodiac Aerospace's Advanced Composites and Engineered Materials Division produces about 230,000 parts every day. Raynor oversees eight business units, 3,400 employees and about 600,000 square feet of manufacturing space. The plants have to be on their game because the product line changes frequently. Because Zodiac Aerospace supplies parts for the aircraft interiors, there's a lot of aircraft configurability. Every airline wants its own look to the interior, so the company constantly shifts to adapt to that.
"What we focus on is being able to meet those ever-changing demands that are happening constantly," Raynor says. "The sites are constantly reviewing inventory levels and docking plans to ensure they can support a vast majority of parts. When you're supporting interiors, the configurations are limitless."
To further support this demand, the company plans to expand its metal fabrication capabilities and its engineered material capabilities for honeycomb core and prepreg. "Right now, we're heavily engaged in an internal initiative called 'Focus,'" Raynor explains. "We are looking at the basic systems and processes across the organization to ensure not just compliance but that they are adaptable and that we're moving or expanding our core capabilities in terms of executing on those. How do we continue to make ourselves best in class?"
Great Relationships
Zodiac Aerospace's relationships with customers, suppliers and employees are very important. "We are heavily dependent on our supply base because we need them to execute and perform so we can do the same and our customers can execute and perform as well," Raynor notes.
The company spends much time working with its supplier base through readiness and quality reviews. Zodiac Aerospace is constantly engaging suppliers on cost, quality and delivery patterns to ensure the products it receives are acceptable and will flow through the supply chain so the company can complete the product for its customers.
But Raynor says without the talented people who work in her division and across the entire company, none of the work Zodiac Aerospace does would be possible. "We are blessed with a lot of very talented people," she says.
Much of that is thanks to the culture found throughout the company. Raynor says everyone works with the guiding core values of respect, humility, realism and living with an entrepreneurial spirit. Those values have been in place since the company beginnings, and everyone lives them out every day in what they do, Raynor notes.
"My hope and vision would be that we continue to anticipate and support our customers needs by responding to the market challenges that are ahead and that we continue to provide great opportunities for employees and great value to our customers," she adds. "We are a multicultural company with facilities all over the world. We come together to make these amazing products that are deployed all over the world. We do it speaking many languages with different cultural background and we're able to pull that together."