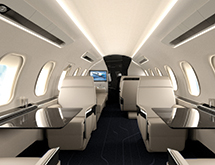 When entering a business aircraft, one can only be impressed by the elegance, comfort and functionality the cabin interior provides to its occupants. From leather seats to exotic wood cabinets, these details are top of mind for the team at Zodiac Aerospace, which strives to provide the best cabin interiors when designing high-end interiors and components for business aircraft OEMs.
"Our customers' needs are different, ranging from full interiors totally integrated and ready to install all the way down to raw composite panels," says Jean Pelchat, president of the Business Aircraft Cabin Interiors division. "Our role is to adapt to our customers' needs by making sure we can help them achieve their desired results."
Zodiac Aerospace has been in the aerospace field for more than a century, ever since it produced its first hot air balloon. In 2002, the company launched its Business Aircraft Cabin Interiors division that specializes in the design, engineering, fabrication and integration of the finest interiors for OEM customers. These products include cabinets, periphery elements like sidewalls and headliners, and seating upholstery.
"Our division has consistently grown in the last 12 years and now has components produced in four sites of our cabin and structures segment," Pelchat says. Those locations are in Jacarei, Brazil; Santa Maria, Calif.; and Tijuana, Mexico; with the hub located in Montreal, Quebec.
"Our growth was based on earning a solid reputation leading to winning more program content," Pelchat says. "We are proud to offer our customers a turnkey solution for fully integrated, ready-to-install interiors. This brings important advantages to our customers by managing the interior commodity with minimal overhead."
Pelchat says a lot of the division's raw materials come from sister divisions at Zodiac Aerospace, which allows it to stay competitive and flexible. At those other locations, the Business Aircraft Cabin Interiors division can manufacture materials such as flat and curved raw composite panels, plastic and metal parts, adhesives, resins and interior equipment ranging from waste and water systems to galley equipment like coffeemakers and ovens.
As for future growth, Pelchat says the company is focused on looking for new opportunities and seeking more content for its current programs. On the external side, Zodiac Aerospace is always seeking to acquire companies that could complement its products.
"We are constantly investing in our future," Pelchat says. "For instance, in the case of our Montreal site, we moved from a three-building compound to a single, larger site to accommodate future growth."
In addition to vertical integration as the company does business with many other Zodiac Aerospace divisions, the Business Aircraft Cabin Interiors division also works with suppliers all over North America. In the case of major commodities, it provides a quarterly forecast to give suppliers a head's up.
"In order to stay flexible, we also have a network of local suppliers that support us on various commodities," Pelchat says. "A good example is our collaboration with Groupe Meloche. They are located a few miles away from our Montreal factory and provide us with machined parts and cover our powder coating needs. The proximity and complicity allows us to be very flexible when we face last-minute requests from our customers."
Delivering Quality
Like most companies, Zodiac Aerospace thrives on providing its customers with a quality product on time and at a competitive price. Pelchat notes over the last few years he has noticed an increased need to be flexible by incorporating last-minute changes promptly and efficiently.
The company's focus on quality is split into two major categories: conformity/functionality and aesthetics.
"Conformity and functionality is simple in the sense that the interior must conform to our engineering specifications, the customer's specifications and to authority regulation," Pelchat explains. "Since aesthetics are more subjective, it can be challenging at times. But we are continuously working with our customers to improve quality and to better define these subjective elements."
The company also integrates feedback about quality from inspectors, customers and even end-users into its continuous improvement program.
"This just complements our quality system while also using trend analysis and corrective action methodology," Pelchat says.
The key to Zodiac Aerospace's manufacturing is the depth of its engineering. Pelchat says the company maximizes the utilization of CNC machines to shape raw panels. From there, it uses an assembly line approach by breaking down the work into a specific work package for every position on the assembly line.
"We operate each assembly line with a specific takt times aligned with the program pace," Pelchat explains. "This allows a rapid integration of new employees and reduces the learning curve."
Giving Back
Just as the company strives to be a good partner with its customers, Zodiac Aerospace also tries to be a good partner in the community. The company achieves this objective with its "Give & Grow" program.
"Each year, we help a community school or daycare in need by refreshing their playground," Pelchat says. "We invest in the equipment and our employees rally together for the day by doing all the associated work.
"It's a great way to make a difference in our community," he adds.