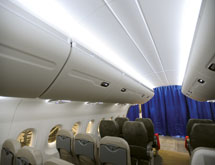 Zodiac Seat Shells & Zodiac Cabin Interiors U.S.
It's said that success changes people, but it can also change companies. In the case of C&D Zodiac Inc., success not only changed the firm, but also resulted in it being split in two, Paul Wile says.
The firm, which manufactures aircraft interior products, is part of Zodiac Aerospace, a France-based provider of aerospace equipment and systems. In 2012, C&D Zodiac experienced growth with the sales of its composite seat shells business, which form the environment of business class seats on planes.
"Demand [for the shells] exploded in the industry," Wile explains. "Zodiac managed a successful and long-running composite business and thought it would be a great [increase to] seat shell business in this area."
Today, Wile is the vice president and general manager of Zodiac Seat Shells, which operates in Santa Maria, Calif., and serves many domestic and international airlines. The remainder of the C&D Zodiac Santa Maria business operates as Zodiac Cabin Interiors U.S., also located in Santa Maria.
"We are focused on innovating, developing and designing new cabin interiors for all OEM manufacturers and airlines," says Tony Guy, the vice president and general manager for Zodiac Cabin Interiors, Santa Maria. "We currently have a number of OEM interiors being developed at this site."
Zodiac Cabin Interiors' products range from sidewalls and ceiling panels to cockpit interiors and passenger service units, Guy says. He adds that a large portion of both companies' businesses includes the retrofit of aircrafts. "It's all depending on what the industry needs," Guy says.
Growing Strong
Both firms combined employ a staff of more than 1,400 and occupy a footprint of 300,000 square feet in Santa Maria. "We continue to grow even after the split," Wile adds.
Although Zodiac Seat Shells has experienced "some of the challenges of any business that is growing at an aggressive rate," Wile says 2013 has proven to be a very positive year for the firm.
"A big achievement that we've had over the last year is we've developed, designed and manufactured about six new platforms of business-class suites together with the seat companies," he says.
Zodiac Cabin Interiors has had many achievements, as well. "[Our] Santa Maria site is the passenger service unit center of excellence for Zodiac Aerospace Cabin Interiors and Structures," Guy says. The firm also is a winner of many Crystal Cabin awards for its products.
"That's a big deal in our industry," he says, noting that the company recently won one for its Airbus A320 ISIS Interior, which features the SmartBin storage system. The unique design allows for maximum use of available space which translates into extra luggage capacity and a more spacious cabin.
Guy also credits the firms' successes to their relationships with partners and suppliers. "Materials such as decorative laminates and vacuum form plastic can be selected from suppliers like Schneller for optimizing an operator's cabin interior aesthetics and their premium seating environments," he explains. "These partnerships allow the OEMs and operators to create aircraft cabin designs that lead the industry in comfort and design."
Dedicated to Lean
Zodiac Seat Shells and Zodiac Cabin Interiors share a focus on lean manufacturing. "Lean is really the backbone of our manufacturing strategy," Wile says, noting that the firm utilizes such tools as one-piece flow. "We've had cycle times improved up to 70 percent."
Ready for Another Boom
Wile and Guy see strong futures for their firms under the ownership of Zodiac Aerospace. Previously, Guy explains, C&D operated privately as C&D Aerospace until it was acquired by Zodiac in 2005. Since then, "The business has been booming for us," he says.
With Zodiac Aerospace's leadership, C&D was able to boost the size of its staff. "[Zodiac Seat Shells] went from zero to 1,000 employees in less than three years," Wile says.
Zodiac Aerospace also combined C&D's composite business with its own strategic platforms. "We were able to take Zodiac's expertise in seats and marry it up with our expertise in composites to create a wholly new business," Guy says, noting the firms hope for more growth.