Pioneers in cellular materials technology
Developing its business through sustained high levels of organic growth, Zotefoams plc has spent the last quarter of a century becoming the world leader in cellular materials technology
While 2017 may have marked the 25th birthday of Zotefoams plc (Zotefoams), this pioneer in cellular materials technology, and the world's largest manufacturer of lightweight cross-linked polyolefin block foams, can trace its roots back to 1921, when the technology was used to develop the first hard and soft expanded rubber. "It began with the work of English engineer,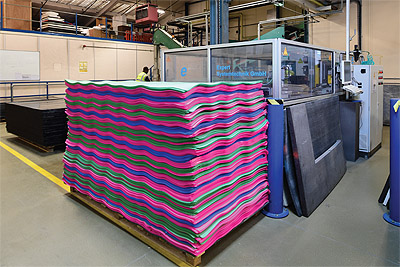 Charles Marshall, who had moved to the United States to work with the great inventor Thomas Edison, and in 1935, the business moved to its existing headquarters in Croydon, near London," begins Zotefoams CEO, David Stirling.
It was in the mid-1960's that the company would go on to produce the world's first polyethylene foams, before re-establishing what it calls the 'art of innovation' by developing a range of lightweight polymer foams. In 2001, Zotefoams would go on to invest in its first production facility outside the UK, in northern Kentucky, in which it recently invested over $30 million to increase production capacity, and in 2016 it not only opened a facility in Tulsa, but also established its first facility in China.
"Zotefoams has grown strongly over the years by having a portfolio of products that are useful for a wide variety of market sectors," David continues. "Some parts of the business have performed well as the markets have been buoyant, but in recent years we have definitely outstripped market growth in aviation, speciality packaging, sports equipment and with our T-FIT® insulation product range."
The Board of the company is understandably pleased with recent results, and their collective belief in the continuing growth potential across all of Zotefoams product lines has resulted in considerable investment across the board, notably in Kentucky when it comes to the company's AZOTE® brand of closed cell, cross-lined polyolefin foams, and in the UK where it develops its ZOTEK® brand for high performance foams manufactured from fluoropolymers, engineered polymers and speciality elastomers.
At the same time, the company's MuCell® Extrusion business, which it co-founded in 2008 in Boston, Massachusetts, before taking 100 per cent ownership in 2011, has been particularly busy, as demand for its MuCell® technology increases. This patented process creates 'micro-bubbles' in the core of plastic parts or products by injecting gas into them as they are manufactured. This produces a foamed core bounded by a solid skin as one integral material that appears indistinguishable from a solid product.
Zotefoams foams have gone on to be utilised by a diverse mix of sector-leading companies, including the likes of Airbus, Boeing, NASA, Toyota and Mercedes Benz, and for all manner of applications, such as in soccer balls, cricket and hockey gloves, packaging for precious artefacts, by O'Neill in its buoyancy aids, and by Dunlop Oil and Marine in the manufacture of the world's largest hoses for dredging. Meanwhile, its MuCell® technology has been licensed by the likes of Unilever and Coveris. David is also confident about what it is that makes Zotefoams the preferred choice for its customers. "Any foam is a combination of the base raw material, in this case polymer, and the process," he states. "Zotefoams operate a unique nitrogen gas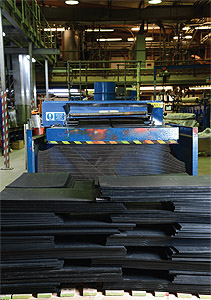 process, giving a better distribution of material with no impurities. The nitrogen gas process also allows us to create lightweight foams from materials that are simply not possible using other processes. The end result are materials that are lighter, purer and more consistent, often all at once."
2017 was a particularly busy year in terms of product and market development, culminating in the announcement of a global deal with Nike to develop and supply foams for footwear, an exciting development that represents just the latest validation of Zotefoams' technology. "One of the less obvious accomplishments during the last 12 months was the extension of our T-FIT® insulation range, as we developed solutions for the food, dairy and beverage industries, and also for general process industries operating high temperature pipework," David adds. "These products, known as T-FIT® Hygiene and T-FIT® Process, are being beta tested on a number of facilities at present and we expect to roll them out during 2018, initially from our facility in China, and possibly from additional facilities as early as the second half of 2018."
The aforementioned rise in demand has naturally required an increase in capacity, and this has been facilitated by steady investment in infrastructure. This includes an additional allocation of £12 million towards the company's UK facilities, announced late in 2017. "This investment will provide us with a building to house the additional capacity we need," David explains. "Our business operates 24/7 and we expect the new equipment will mainly be used for high-value products, which are exported globally. This particular investment will increase our capacity of our ZOTEK® foams range by up to six times from 2019."
The breadth of opportunity with existing and new customers means that Zotefoams is always developing new products, developing around 30 in 2017, and working on more fundamental innovation in its core AZOTE® business and with more complex 3D parts at present. "Zotefoams has grown strongly in the past year and our objectives are all based around surpassing our current records, and maintaining our organic growth strategy in a sustainable way," David enthuses. "2018 is going to be a key year for our long-term ambition, with our Kentucky facility commissioning in Q1, and we are looking to achieve double-digit top line growth for the foreseeable future.
"At the same time as we are growing, we are also changing as a business. As of this moment in time, we have 380 employees, of which 125 have been with us for less than two years. We also have a cadre of longer serving staff who are able to apply their knowledge and experience throughout the business. For a manufacturing business, this feels tremendously diverse and dynamic, and we are proud that this contributes to our culture of innovation and delivery."
Zotefoams plc
Services: Cellular materials technology