Few companies are thought of as true innovators in their respective industries, and even for those, their innovations are often decades apart. On the other hand, however, Zotos International has consistently developed new ideas in the creation of hair care products for salons and salon professionals.
Vice President of Oper­ations Anthony Perdigao says the company has been on the cutting edge of the in­dustry since the Great Depression, when it developed a chemical permanent waving method to replace machines.
"From the very beginning, Zotos has been a forward-thinking company that prides itself on quality, delivery and performance," Perdigao says. After revolutionizing permanent waving in the 1940s and 1950s, Zotos continued its innovation in the 1960s with its Moisture Wave technology, which became one of the largest selling wave products in the world. In the 1970s, Zotos introduced its Firm & Gentle products, which eliminated hair damage from over-processing. The 1980s saw Zotos develop an array of shampoos, conditioners and styling products,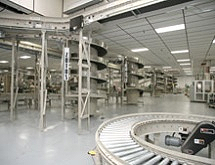 as well as its acquisition by Shiseido, a global leader in the cosmetics industry. "The acquisition enabled Shiseido to enter the U.S. professional beauty salon market and added even more depth to Zotos' extensive R&D capabilities," Perdigao says. "Under the Shiseido umbrella, Zotos was established as an international company, selling products in over 80 countries worldwide."
In the 1990s, Zotos expanded further by acquiring the professional salon division of Helene Curtis Inc., which included top-selling brands such as ISO, Quantum and Naturelle. By 2002, Zotos had acquired JOICO Laboratories, bringing brands such as K-Pak and ICE HAIR under the Zotos name. "This strengthened Zotos' presence even more, underscoring our solid commitment to salon professionals," Perdigao says.
Leading the Way
According to Perdigao, Zotos' ability to innovate within its category is the result of the company's commitment to keeping up with the latest technology both in its products and in equipment used to manufacture them. "Apart from innovative products and services, Zotos has one of the most integrated and technologically advanced manufacturing facilities in the beauty industry today, featuring best-in-class construction and configuration, while offering unparalleled flexibility and competitiveness, with core competencies in all major professional and personal care categories essential to the salon professional and consumer," he says.
"Our latest expansion includes a highly praised aerosol facility that has quickly become a benchmark for productive and safe aerosol manufacturing," Perdigao continues. "This development has enabled Zotos to expand its integration strategy, establishing yet another exciting growth opportunity." The facility, located in Geneva, N.Y., was expanded in part with a $516,000 block grant from the state of New York, and is expected to generate 50 new full-time jobs in the community. The company also has implemented new ways of thinking in its manufacturing facilities that have increased efficiency and improved how it serves its customers.
"Zotos has fully embraced the philosophy of Six Sigma, focusing on customer satisfaction through reduced process variation and improved operations," Perdigao says. "We also have focused executive education and lean manufacturing training for our supervisors and operators."
Maintaining Edge
Perdigao says Zotos needs to remain on the leading edge of the industry because without that edge, it would not survive. "In the highly competitive world of beauty, professional hair care marketers are constantly adapting to the never-ending, changing market," he says. "However, if marketers remain focused and not deviate from what has made the professional brands standout – developing innovative products that are only sold through sa­lons – they will continue to thrive and prosper."
In addition to the naturally competitive nature of the industry, Perdigao says Zotos faces other challenges, as well. "In today's market environment, like others, we are faced with price pressures and market volatility and we find ways to reduce our costs through sourcing strategies and operational innovation," he says. "At the same time, product diversion is the biggest threat to our professional distribution channel and Zotos is continually investing in technologies to safeguard our channels of distribution."
Diversion is something the company is working particularly hard to combat, as it damages the integrity of its product lines by diverting them to mass retailers without the company's permission. Perdigao says Zotos works to educate consumers about the differences between professional and mass-market products through public relations, online marketing and advertising.
A Better Tomorrow
Looking toward the future, Perdigao says Zotos' tradition of innovation and progressive thinking will continue to serve it well. The company recently implemented an energy conservation program, and hopes to be amongst the first beauty companies to manufacture products in a carbon-neutral environment. "Each new day brings new opportunities to conserve, create and innovate," Perdigao says. "As we look to the future, we build on the successes of our past. We need to continually explore possibilities and manufacturing initiatives designed to provide maximum benefits to our customers, our company and our employees."