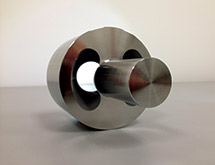 ZTECH Precision is the third manufacturing company that its president, Don Zoubek, has owned, this time with his son, Ben Zoubek, as vice president and operations manager. So he knew the kind of company he wanted to create. "Our growth has come from specifically serving Tier 1 suppliers," Zoubek says. "Our goal is to keep our overhead lower than our customers' in order to provide them components at a price level that allows them to still make their margins."
Tier 1 suppliers use ZTECH Precision when the demand for their components exceeds their production capacity, and also when they need to have a multitude of processes performed at one location. "We are very experienced in both wire and sinker EDM [electrical discharge machining], but we also provide extensive milling and turning capabilities, as well," Zoubek says.
ZTECH receives work because many Tier 1 suppliers consistantly outsource a percentage of their work. "It creates some insurance for them," Zoubek points out. "By being able to find sources like us on the outside, they can grow significantly more without the need for additional internal infastructure. What we find is typically, once we're awarded a project and part number, when it is reordered, it usually comes back to us." Zoubek estimates that approximately 80 percent of ZTECH's work is repeat business.
ZTECH provides components primarily to the medical and aerospace industries, along with some for the oil and gas and defense industries, as well as tooling and special equipment components. The company can provide precision four-axis CNC milling and up to seven-axis CNC turning. It also performs CNC EDM drilling, four-axis CNC sinker EDM and four-axis CNC wire EDM in workpieces up to 15.75 inches thick.
Quality Checks
ZTECH Precision saves its customers quality inspection time and paperwork. "Because we've worked directly with OEMs in the past, we know what our customer is dealing with and we can anticipate what their customer is going to ask of them," Zoubek maintains. "So we work with the customer on the front end to find out exactly what quality measures and processes their particular customer is going to require from them. We perform all of that here internally and provide them with all the documentation, sometimes using their own forms."
ZTECH Precision's quality management system is based on the ISO 9001:2008 standards. "When we started three years ago we chose to implement a quality management system right from the start, which is a little unusual for a small company," Zoubek remembers. "We wanted to become compliant with ISO but not necessarily certified to ISO, because there's tens of thousands of dollars difference between the two of them, which would drive up our overhead. What we've found is if you follow all the ISO procedures and live it every day, it shows in your quality, delivery and customer satisfaction. Up to this point, it has not been required of us by our customers, but we are prepared for when that changes." In the meantime, this helps keep ZTECH's overhead and consequently its prices to its customers lower.
Being able to perform many different types of manufacturing operations in one location has been a competitive advantage for ZTECH. "You rarely find all of these capabilities and a serious quality system to back all that up in a company this size," Zoubek declares. "A Tier 1 supplier to a medical company we're working for was manufacturing a component to a certain point, and then it required a sinker EDM operation to be done. They'd send it to us, we'd perform the EDM and send it back to them. Over time, it evolved that they had us make the whole part complete."
Then the company asked ZTECH to manufacture two other components that went into the assembly. "Now we're doing all of the components in the assembly for the simple fact that our quality is impeccable, our delivery is on time, the documentation we provide them with is unequalled, and we can do all of that under one roof and they don't have to send this around to multiple places," Zoubek asserts.
Moderate Quantities
ZTECH Precision manufactures parts at its single 9,200-square-foot plant in quantities from 50 to 500 ordinarily, although the company will produce prototype quantities in conjunction with larger projects from time to time. On the the other end of the scale, ZTECH runs 1,600 a month of some parts. Lead times vary from two to six weeks during the plant's one-and-a-half shifts Monday through Friday. In addition, components can sometimes be produced within 24 hours or over a weekend in emergency situations.
The company invests greatly in capital equipment, employee training, support equipment, inspection equipment, CAD and CAM workstations, custom tooling and fixturing, rotary tables and work-holding accessories to fully support primary machining operations. "We just put in our 15th CNC machine," Zoubek notes.
Most of ZTECH's customers are in the Midwest, although a minority are located in other regions of the United States. "We know that for everything we do, someone else's reputation is in our hands, and that is understood throughout the organization," Zoubek emphasizes. "We have some very talented and experienced individuals working on the team, but also some great upcoming people learning under them. They all have mutual respect for one another and for our customers, as well as treat vendors with just as much respect. In most cases, our customers and vendors become actual close personal friends of ours."