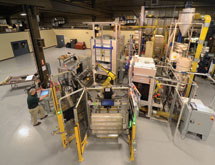 Guyson Corp
Issue Summer 14
---
Guyson Corp. has been demonstrating its capabilities in the United States as an engineer and builder of cabinet-blast machinery for nearly 40 years. The company designs and builds cleaning, shot-peening, finishing and surface-preparation machinery, manufacturing both air-blast and wheel-blast equipment.
"We have built a strong base of customers," President Steve Byrnes says. "Now we are focusing on the next generation of our products, which we believe are robotic blasting systems."
Based in Saratoga Springs, N.Y., Guyson is part of the U.K.'s Guyson International group of companies. Guyson International is the largest independent manufacturer of blast finishing and aqueous degreasing equipment in Europe, having been involved in cleaning and surface treatment since 1938. It also has offices in France, Malaysia and China.
"We are located in New York's Tech Valley," Manager of Marketing and Business Development John Carson says. "There are many different companies serving high-tech industries from here, and Guyson is a part of that community."
As for Guyson in the United States, it was incorporated in 1975. Over time, it expanded office and manufacturing space to 80,000 square feet. It has added to its capabilities, such as manufacturing its first turnkey robotic blast system in 1997. It now has more robotic blasting machines installed and running than any blast equipment manufacturer. The company has continued to expand, opening a contract finishing job shop in 2009 and acquiring Automated Blast Systems in 2014 so it could begin building wet-blast machines.
Special Offerings
Guyson's specialty is the automation of cleaning, finishing and surface-treatment processes. It has a standard lineup of manual and automatic models, and it also builds special-purpose automated blasting systems that are custom-engineered and built to order.
"Our focus is on the customers and their satisfaction," Carson says. "We work to define their process requirements and get an in-depth understanding of their objectives."
The company also offers in-house robotic integration services so customers don't have to utilize third-party integrators. It designs and manufactures both air-blast and airless wheel-blast machinery. It specializes in automated and robotic blast systems that are custom-engineered according to the needs of a customer's application.
In addition, Guyson offers support services such as contract finishing, lab testing and consultation. Its customer service group also helps customers in need of spare parts, blast media, maintenance information or answers to technical questions.
The company is committed to investing in people and engineering design and manufacturing software. Its arsenal includes the latest CAD/CAM and state-of-the-art offline robot programming tools.
"We have added many new people in the last few years, and we have a good mix of experience with new talent with a lot of technical ability," Byrnes says.
In addition, Guyson's investments into automated surface-treatment systems ensure that the company utilizes top-of-the-line electronic sensor technology, control systems and software. Strategic investments in training and software allow the company to meet customer demands.
Upward Trajectory
Guyson is committed to quality. It is a Rockwell Automation Machine Builder, a system integrator member of the Robotics Industries Association, an authorized integrator of Fanuc Robotics, a Yaskawa Motoman Solution Provider and an ABB Robotics Integration Partner. It is ISO 9001:2008-certified. Its electrical panel shop is UL-certified.
The company understands the requirements of abrasive blasting and shot peening. It has experience with design engineering and working on specialized projects. It understands the way blasting technology is used in many industries such as the aerospace, automotive and medical sectors, as well as precision, molding, forging and extrusion industries.
"We have a large installed base of equipment out there," Byrnes says. "Now we are working to deepen our involvement with high-tech companies and larger manufacturers."
Guyson feels robotic blasting will continue to become more attractive to many manufacturers. It also sees onshoring of manufacturing jobs as a trend that will continue.
"Robots are changing the way customers think about grit blasting and shot peening machines," Byrnes says. "We can protect sensitive and accurate equipment, and we are at the forefront of building awareness of the need for robotic blasting."
---