A&M Instruments Inc.
---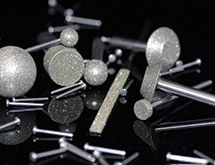 Ever since its inception more than 30 years ago, A&M Instruments Inc. has been always moving forward. In the company's earliest days, President Ron Michaeli says, this often literally was the case. "I started this company out of the back of a pickup truck that didn't shift into reverse," he says. "Each time I left a potential customer, I had to roll up my sleeves farther, and push the truck a few feet backwards in order to move forward with the business and life."
Today, A&M Instruments is recognized as one of the leading producers of diamond and borazon-coated cutting tools used by a variety of customers globally in the medical, industrial and manufacturing sectors as well as for do-it-yourself supply houses. "[We supply] basically anyone who uses a diamond rotary tool to do anything from grinding the head off of a nail, to building cell phones or fabricating aerospace parts," Michaeli says. 
---