Acieta LLC
---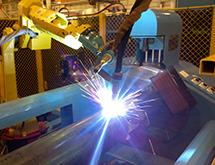 When people hear the word "robot," they tend to fear advancements that will lead to the end of the use of manual labor. But Acieta's robotic welding machines actually result in the addition of more workers, Welding Segment Manager Pete Rogers says.
When companies add Acieta's machines, "It allows the customer to take on more work," Rogers says. "They can have more capacity, which actually creates more jobs in those firms."
Acieta's robotic welding systems have been applied in the agriculture, construction, oil and gas, and mining markets, automotive, and general industries, Rogers says. 
---