Adkev Inc.
---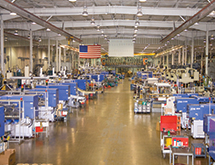 For Adkev Inc., decisions are not always made based on the bottom line, Plant Manager Nathan Biehl says. Instead, "Our decisions are made by making sure [the job] gets done right for the customer," he says.
"That's what has made us successful," Biehl states. "Obviously, we are mindful of the dollar, but sometimes pinching a penny costs you more than what it is worth."
Based in Goodland, Ind., Adkev Inc. specializes in custom injected-molded parts, insert-molded parts, two-shot parts and value-added assemblies. Owner and President Gary Rheude co-founded the company in 1987 with his wife, Cathy.
At that time, the Rheudes had only a 1,200-square-foot facility with a single full-time employee and only two molding machines. But in its first year, Adkev Inc. generated sales of $181,864. This year, the company expects to enjoy sales of $54 million. 
Adkev Inc. also now has 333,000 square feet of manufacturing space in Goodland and Monticello, Ind. Sales Manager John Durlacher notes that the company serves the appliance and electronics industries, but 90 percent of its work is for automotive clients.
---