Advanced Machine & Engineering Co./Hennig Inc.
---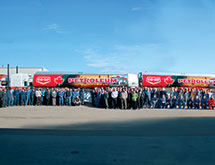 When firms work together, their synergies can provide clients a truly unique offering. That is what Advanced Machine & Engineering (AME) Co. and Hennig Inc. are doing, Marketing Manager Nick Goellner says. "The synergy between the two companies allows us to provide our customers with single source solutions that cover a variety of niches related to industrial manufacturing."
 AME and Hennig are sister companies that operate underneath the umbrella of holding company Goellner Inc. The Rockford, Ill.-based AME manufactures and distributes precision machine tool components and provides metal-cutting services. The Machesney Park, Ill.-based Hennig produces chip conveyors and custom machine protection products, including telescopic steel covers, folded bellows and machine enclosures. 
---