AirBoss of America Corp.
---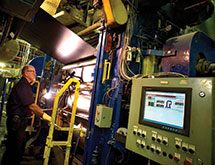 If there is anything that gives businesses strength, it is the ability to serve multiple markets. AirBoss of America Corp. enjoys such diversity with its rubber compound products, President Timothy Toppen says. "We mix those rubber compounds for various end-users," he explains. "They could be for conveyor belts, off-the-road tires, mining [or] a whole host of applications."
Newmarket, Ontario-based AirBoss develops, manufactures and sells the compounds, as well as other rubber-based products for the transportation, defense and industrial markets. Chairman and CEO Gren Schoch and Director Robert Hagerman founded the company.
---