A.J. Manufacturing Inc.
---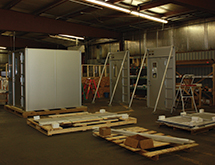 A.J. Manufacturing's window and door products are not what most people think they are.
"It's not uncommon for me to be at a social function and someone asks me what we do," President Todd Carlson says. "When they hear windows and doors they think of traditional, residential windows and doors. That's not the reality of it. The doors and windows we produce have performance attributes and special end-uses such as for a recreational dome at a university, entire air handling unit systems for the World Trade Center or a roof-top air handling unit at the Georgia Aquarium."
The company's products are specialized to operate at certain pressure levels in specific environments. "You may see them at an airport, in big-box stores on the roof or in post frame structures and agricultural settings," Carlson explains.
Unlike most windows and doors, the company's products typically are highly customized. Polyurethane foam enhances them for better durability and increased insulation. The foam forms an energy core with seven times the insulating value of a one-inch wood core, the company says.
A.J. Manufacturing is best known for offering high-performance insulated post frame entry doors, aluminum and vinyl post frame windows, HVAC access doors and insulated steel storm doors. A main strength of its products is resistance to leaking air and water.
---