Alkota Cleaning Systems
---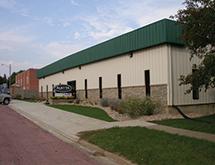 Alkota Cleaning Systems has been the name behind the cleaning of some of the biggest messes around the country for the past 50 years. The company specializes in standard and custom pressure washers, which are hand-built by industry veterans and renowned for their durability and ease of maintenance.
The Alcester, S.D.- based company began in 1964 as Alkota Manufacturing Company and built steam cleaners in a converted creamery. In 1983, Senior Vice President Joe Bjorkman was one of seven men who purchased the company and changed the name to Alkota Cleaning Systems. "All seven of us came from a competing company called Electro-Magic and we all had expertise in different areas so it was a nice fit," he says. 
Today, Alkota manufactures pressure washers, steam cleaners, water heaters, detergents, trailer mounted pressure washers, industrial wastewater equipment and industrial space heaters. The company conceptualizes the product design, performs sheet metal fabrication and assembles all the components for a finished product. "We begin with raw forms of sheet metal ranging from 11 gauge to 20 gauge, and we cut, bend, weld and punch this material to make the frame of our pressure washer products," Bjorkman says. "We also use an angle iron rod, tubing and pipe to strengthen the frame and complete the combustion chamber portion of our hot, high pressure washers. The combustion chamber is a particular area of strength in the design of our products." The company purchases components such as pumps, motors and engines from suppliers and assembles them to the frame.
---