AllCell Technologies
---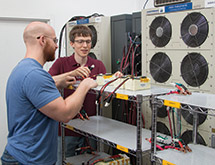 Recognized as a leader in several thermal management technologies for batteries, AllCell Technologies creates lithium-ion batteries with high performance and high cycle life. The company was established in 2001 by former Illinois Institute of Technology (IIT) professor and now CEO Said Al-Hallaj. 
At IIT, Al-Hallaj worked on a program combining fuel cells and safety to optimize the design of lithium-ion batteries. He discovered a proprietary material that absorbs and disperses heat to keep batteries functioning at a safe temperature, preventing thermal runaway while also managing the cells' temperatures. Al-Hallaj decided to license this technology while also founding his own company. 
Al-Hallaj had to leave his job at IIT in 2008 and run the company full time because it was having trouble raising capital and competing in the electric vehicle market, which is the market many of its competitors were focused on. Therefore, it changed the business model and instead focused on light electrical vehicles (LEV), such as bikes, scooters and four-wheelers, and stationary applications for residential, commercial and smart-grid applications. 
---