Alliance Manufacturing Inc.
---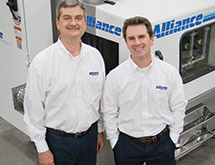 The need to clean parts is typically not mentioned alongside death and taxes, but in the manufacturing world, it's just as inevitable. Metal stampings, machined castings, fabricated weldments and plastic containers commonly build up oil, grease, coolant, stamping lube, dust, dirt and contaminants at some point during the manufacturing process.
The need for pristine parts used in engines and other machines has led to a highly competitive market for the manufacturers of the machines used to clean these parts. The quality and design of Alliance Manufacturing Inc.'s machines, as well as its willingness to customize them, distinguish the company from its peers in this market. 
---