Alps Wire Rope Corp.
---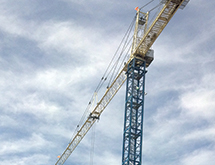 Some set out to dominate their industry with their size, but not Alps Wire Rope Corp. "We're not trying to be the biggest company," President Brad Benner says. "We're trying to be the best company that we can be. That's our goal."
Based in St. Charles, Ill., Alps Wire Rope manufactures wire ropes and wire rope fabrications for clients in the United States, Canada, Mexico and the Caribbean. The company started operations in 1968 as part of Tokyo Rope Manufacturing Co. Ltd.
"We've been just selling wire rope ever since, throughout the United States," Benner says, noting that Alps Wire Rope sells its products to the crane, oil and gas, marine and general industry markets. 
---