American Jetway Corp.
---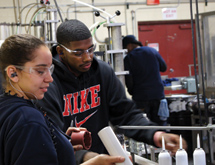 Not many companies last half-a-century, but American Jetway Corp. has beaten those odds and has no intention of slowing down, Janice Germann says. "We're growing and it's going to keep going that way," she declares.
Based in Wayne, Mich., the firm primarily supplies aerosols, liquids and specialty packaging for the automotive industry. American Jetway started operations in 1963, with the first aerosol cans off its lines being touch-up paints used on automobile engines right off the assembly lines. The company saw heavy competition during the early 1970s, with nearly 500 private-label packagers for aerosols.
---