American Ultraviolet
---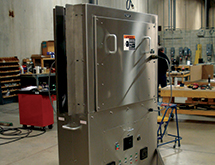 When it comes to being a provider of UV, only the sun beats American Ultraviolet. "We're probably the only ultraviolet company that sells in all facets of the UV industry: germicidal, curing and coating," says Meredith Stines, CEO of the Lebanon, Ind.-headquartered company. "Being in all three of these parts of the UV industry gives us the ability to take our experience with one of these areas and apply it to the other two, giving us more of a wealth of knowledge than many of our competitors have."
Since its establishment in 1960, American Ultraviolet has manufactured nearly 60,000 UVC germicidal fixtures for commercial, healthcare and residential applications. The company's systems are used to reduce harmful pathogens, prolong the life of sensitive equipment and improve indoor air quality in homes, hospitals, laboratories, clean rooms, commercial buildings and food-processing plants.
The company's germicidal fixtures feature the highest High Output (HO) lamps available. "These lamps don't lose as much germicidal energy when temperatures fall, enabling them to kill more mold and bacteria across a wider temperature and air velocity range than all others," the company says.
One of American Ultraviolet's most recent germicidal products is the Automatically Reliably Targeting Zero (ARTZ) mobile room sterilizer, which is used in hospitals to eliminate microorganisms. Users of the ARTZ input the dimensions of the room they're in and the type of organisms they're trying to remove on the device's control panel, and then press a start button. The device then disinfects surfaces within minutes, Stines notes. 
---