Atlas Machine & Supply Inc.
---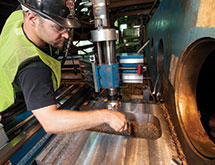 Some companies achieve growth through acquisitions, but Atlas Machine & Supply Inc. does it by "listening to our customers and developing solutions to meet their needs," President Richie Gimmel says. "As long as they keep having new problems, we'll have new ways to grow."
Based in Louisville, Ky., the firm designs, repairs and remanufactures a wide variety of industrial equipment including air compressors, gearboxes, punch presses, steel mill rolls, rock crushers, construction vehicles, fluid-cooling systems and vacuum pumps. A group of machinists started Atlas in 1907 as a manufacturer of custom freight elevators.
---