Atlas Pacific Engineering Co. Inc.
---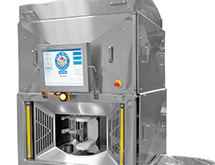 For nearly 70 years, Atlas Pacific Engineering Co. Inc. has stayed successful by providing robust machines and treating its customers and employees like family, Roy Molter says. "That's the working model that has succeeded for Atlas," he states. "We're there for our people and maintain strong relationships with our customers."
Molter is the CEO of Atlas Industries, the parent company of Atlas Pacific, a fruit-processing equipment firm based in Pueblo, Colo. The company started operations in the late 1940s as a catalog manufacturer in Emeryville, Calif. 
But Atlas Pacific eventually branched out when it began designing and manufacturing machines for peeling, coring and slicing apples and pears, President of Sales and Marketing Robb Morris says. In 1986, the firm acquired Filper Corp., which enabled Atlas Pacific to add peach pitting and Magnuson Corp.'s vegetable processing to its portfolio.
---