BTD Manufacturing
---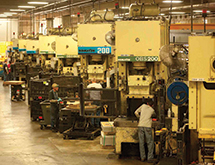 BTD Manufacturing has been serving the contract and custom manufacturing needs of many top brands since 1979. The company's extensive range of contract and custom manufacturing capabilities, along with its growing geographic footprint, are helping BTD live up to its mission of growth, service, quality and innovation.
"What we are focusing on as a business is to keep growing our ability to be a one-stop shop for metal fabrication for our OEM customer base," President Paul Gintner says. 
Founded in 1979 as Bismarck Tool and Die Co., the current incarnation of BTD came into being in 2011 when Miller Welding, Performance Tool & Die and BTD Manufacturing Inc. combined. BTD has been a wholly owned subsidiary of Otter Tail Corporation since 1995. 
BTD has five facilities in the Midwest. Headquartered in Detroit Lakes, Minn., the company also has two locations in Lakeville, Minn., and single locations in Otsego, Minn. and Washington, Ill. BTD strives to set itself apart from the competition through quality control, cost containment, innovation and rapid delivery.
---