Bunting Magnetics Co.
---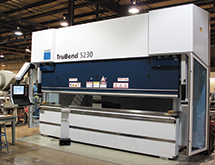 Kansas-based Bunting Magnetics has been providing manufacturers with magnetic solutions for more than 50 years, and President and CEO Robert Bunting Sr. says the key to the company's success is simple. Naturally, Bunting Magnetics takes great pride in its ongoing ability to create magnetic equipment that helps manufacturers address specific needs in their facilities, but Bunting says the operation is able to achieve that success only through one specific attribute. 
"It's always your people," Bunting stresses. "If you don't have a person who knows how to do the job correctly, all the equipment in the world won't make a difference."
The strength of Bunting Magnetics' people is one of the primary reasons why the company has become a leading provider of magnetic solutions and other product lines for manufacturers across a diverse cross-section of industries. The company was started by Bunting's father in 1959 in Chicago, where it focused on distributing magnets and magnetic assemblies. In the early 1960s, the company's focus switched to manufacturing its own magnetic assemblies, and by the late 1970s it had relocated to its current home in Newton, Kan. Bunting says the company relocated so that it would have space to keep up with the growing demand for its products, and today the company has more than 90 acres of property ready for new facilities. The company also has sites in Illinois, Pennsylvania, England, China and Australia. 
---