Cambrdige-Lee Industries
---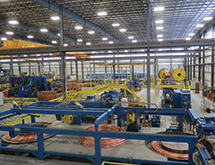 Manufacturing employees at Cambridge-Lee Industries (CLI) do not look at themselves as being button-pushers. Instead, equipment operators see their role as one that's not only critical to the company's success, but key to the quality of the products they make. "Instead of our operators saying, 'I just run a machine,' they have ownership of that machine and its role in our manufacturing process, with the ultimate goal of creating value for our customers.  We have experienced, hard-working employees, and we want to hear what they have to say in how we can better serve our customers," says Andrea Funk, CEO of the Reading, Penn.-based company. 
Every equipment operator is fully accountable for a number of key metrics including safety, delivery, cost, quality and innovation, and reports his or her progress to management daily. "We are driving lean principles and 5S down to all the operators on the floor and want to get them involved in the process," says Vice President of Operations Les Shearer, who joined the company in October 2013, and is leading CLI's lean transformation.
In addition to daily gemba walks – during which each operator is observed and reports on progress – CLI is employing other common lean methodologies such as standard work, visual controls and root cause analyses. 
---