Camcraft
---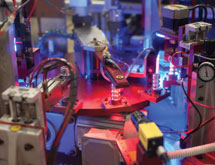 Illinois-based manufacturer Camcraft is very clear about what it does and why it does it. Camcraft provides precision-machined components used in the hydraulic, fuel-delivery and engine management systems  of on- and off-highway engines. The company dates back to the 1950s  as a small Chicago job shop, but today employs approximately 300 people in a much larger operation just outside Chicago in Hanover Park, Ill. Unlike its size, however, the company's mission or it's "why" has remained the same.
"Our mission is very unique and the first part is to glorify God in everything we do," says Steve Olsen, vice president of operations. "The second part of our mission is related to that and it's to have a company culture that makes it a great place to work for our people." 
The last two guiding principles of Camcraft's overarching mission are to be its customers' most-valued and trusted partner and to grow the company profitably. Those four tenets provide the basis for every decision made at Camcraft, and Olsen says they have undoubtedly led to the company's success, because to do all these things requires strategic investments aimed at being the best. From its workforce to its equipment to its systems, Camcraft invests millions every year in winning and retaining world-class customers. 
---