Castrol OPTIS
---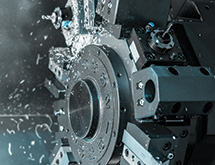 As U.S. businesses strive for more streamlined working models, there is a general consensus that the current Lean methodology has taken industry as far as it can when it comes to making the manufacturing processes more profitable. OPTIS' CEO Jon Iverson argues that – far from being obsolete – lessons learned from the Lean movement must now be capitalized on to continue on the path to improved productivity, profitability and establishing a dramatic difference in the marketplace. 
Financial, operational and corporate decision-makers in the metalworking space have recognized the value of Lean processes but are not maximizing the deeper domain insight at their disposal. 
Lethargy with messaging around "doing more with less" – and the absence of clear, tangible evidence that the gains achieved can be maintained – are hampering progress and putting firms in danger of losing their competitive edge. 
---