Cee Kay Supply Inc.
---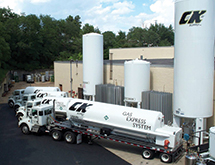 Founded in 1948, Cee Kay Supply Inc. is a gas and welding distributor that works with clients at its technology center to improve their manufacturing processes. "We help small to mid-sized companies, often acting as their welding engineering arm," President Ned Lane says.
There are seven companies in Cee Kay Supply's St. Louis market that supply welding and gas equipment, so Cee Kay Supply differentiates itself with its expertise and educational offerings. The company can recommend the right machine, test it and then write welding procedures. The company "provides more than just machinery," Lane explains.
Cee Kay Supply's training and education center provides demonstrations for customers, as well. It shows the capabilities of its machinery on its tech center floor with equipment such as a full-size Koike cutting table, Lincoln Electric's welding robot and its virtual welder, the VRTEX 360 Virtual Welding Trainer – an ideal system for basic to advanced welding training. Its individual training sessions explain processes and procedures for specific machines. Cee Kay Supply is working on the cutting-edge of technology, Lane says, and helps firms automate with the latest in robotic welding.
---