Cincinnati Incorporated
---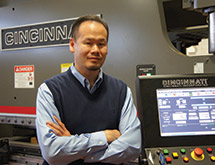 Many years ago, Cincinnati was a hotbed for large machine tool companies. That's no longer the case as consolidation and increased competition have forced many companies out of the market. But 117 years after its founding, Cincinnati Incorporated continues to operate its plant and technical center just outside the Queen City.
"The company has been remarkably resilient and able to weather many severe economic downturns over the years," says Carey Chen, president and CEO of Cincinnati Incorporated, a leader in manufacturing large industrial machine tools, laser cutting systems, big area additive manufacturing machines and automated solutions.
Contributing to that resiliency is Cincinnati Incorporated's ability to supply customers in myriad industries, including agriculture, construction, emergency, energy, food and beverage, freight and furniture. Chen notes the company also serves the material-handling, metal service center, military, power distribution, transportation, shipbuilding and telecommunications sectors.
---