CLARCOR Air Filtration Products
---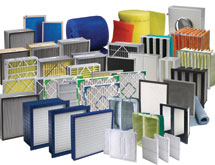 CLARCOR Air Filtration Prod­ucts has been in the business of providing clean air to companies around the world for nearly 50 years. The Jeffersonville, Ind., company already has a presence in the global commercial and industrial market, but is looking to service a larger percentage as the market continues to grow. 
"It's been our core business and it's a market that provides a lot of opportunity," President Doug Griffin says. "It's a significant size market and one that demands quality and dependable products." CLARCOR Air is one of only five leading air filtration suppliers domestically, he adds, which leaves a tremendous amount of market opportunity. 
The company collects a majority of its revenue from the manufacturing industry and has become a trusted supplier among those clients it already serves, but Griffin says because the industry is so broad, the company has yet to reach every part of the market. "There is a lot of the market we don't enjoy today and we are anxious to pursue that going forward," he adds. 
---