CNH Industrial
---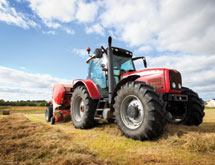 A recent merger of two of the world's leading equipment brands is looking to the future while honoring a long history of quality and innovation. 
CNH Industrial was incorporated in November 2012 and became operational in September 2013 following the mergers of Case New Holland (CNH) Global N.V. and Fiat Industrial S.p.A. Fiat Industrial formed in January 2011 following a reorganization of its parent company. CNH Global was established in 1999 through the merger of New Holland N.V. and Case Corp.  
The new entity unites CNH's agricultural and construction equipment operations with Fiat's portfolio of trucks, powertrain applications and commercial and specialty vehicles. "From tractors and combines, excavators, wheel loaders, trucks, buses, firefighting and civil protection vehicles to powertrain solutions for on and off road and marine, the group designs, produces and sells machines for work," the company says. 
---