Combination Door Co.
---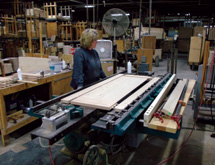 A focus on superior craftsmanship continues to guide Combination Door Co. after 100 years in business. "I really believe that we produce the best possible products, and the longevity of our company proves that," President and owner Dan Schmidt says. "If we were putting out shoddy products I don't think we'd still be here."
Schmidt represents the fifth generation of family ownership at the Fond Du Lac, Wis.-based manufacturer. The company, founded by Schmidt's great-great grandfather Louis C. Schmidt in 1912, specializes in making wood combination storm and screen doors. The elder Schmidt, a cigar manufacturer, patented the combination door concept in 1914, two years after founding the company.
---