Commercial Spring and Tool Co.
---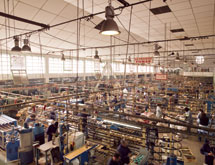 Commercial Spring and Tool Co. Ltd. was greatly impacted by the economic downturn, losing revenue and employees, but it overcame those struggles through constant innovation, deployment of lean manufacturing methodologies and technical manufacturing methods. 
Frank Martinitz, an entrepreneurial tool and die maker from Germany, started the company in 1971 in a small industrial building in northern Toronto by manufacturing metal components for the telecommunication and automotive industries. 
Commercial Spring and Tool moved to a more modern facility in Mississauga, Ontario in the early 1980s. That location was later converted into a heat-treating and coating operations facility after the company relocated its stamping wire-forming and spring-winding operations in the 1990s to a new building in Mississauga.
---