Commercial Tool and Die Inc.
---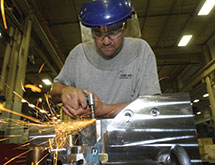 Battling the trend of an aging, retiring workforce in its industry, Commercial Tool and Die Inc. of Comstock Park, Mich. is doing its part to train the next generation.
"People working in tool and die are getting older and retiring," says James Bouwman, co-owner. The lack of expert mold makers and machinists in the Grand Rapid, Mich., region therefore led the company to create a full-fledged apprenticeship program.
Its sister company, Expert Technical Training LLC, was spun off of Commercial Tool & Die in 2008 with a focus on training future mold makers, CNC machinists, die makers,  and EDM operators. "This is a big focus at Commercial Tool and Die," says Bouwman. "We are training younger employees to get the right people in the business." 
---