Continental Machines Inc.
---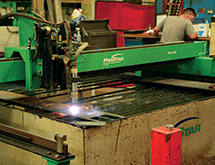 After nearly 90 years, Continental Machines Inc. has established a strong record for manufacturing quality, Marketing Specialist Brian Sorenson says. "We've got machines out in the field that have been there almost since day one," he declares.
Based in Savage, Minn., Continental Machines manufactures DoAll cutting equipment products, including saw blades and machines, cutting fluids and material-handling systems. Sorenson notes that the company started operations in 1919, specializing in automotive repair.
In 1933, Continental Machines introduced the first metal cutting band saw. Today, the company's saw inventory includes general purpose, vertical, angle cutting, production power and special application saws, all of which it produces from its 400,000-square-foot facility in Savage.
---