CRC-Evans Pipeline International
---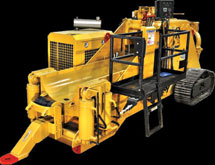 Staying ahead of the curve in pipeline technology with nearly 129 patents and accurate project forecasting keeps CRC-Evans Pipeline International a pioneer in the oil and gas industry.
CRC-Evans is headquartered in Houston and its manufacturing plant is in Tulsa, Okla. The company has been an innovator in the development of equipment to help contractors successfully build pipelines since 1933. It has provided equipment and services for more than 50,000 miles of pipelines in more than 100 countries. "We are with a contractor basically from start to finish," Plant Manager Eric Pate says. "We don't provide the machinery that puts the pipeline into the ground, but other than that we are a one-stop shop."
The company doesn't put the pipeline into the ground, but it's there to provide an industrial sifter to rid the dirt that lies on top of the pipeline of any rocks, Pate explains. "What our customers look for is our quality and customer service," he adds. CRC-Evans also provides pipeline construction equipment, automatic welding systems, managed subsea services, field joint coating, weighting systems and non-destructive testing. Other engineered equipment includes laybarge equipment, conveying systems and concrete weight coating plants. 
---