CTS Corp.
---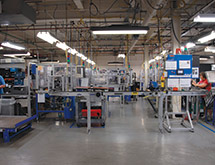 Much has changed for CTS Corporation since it was founded in 1896 as Chicago Telephone Supply. Nearing its 120th anniversary, the company has demonstrated an uncanny ability to endure and negotiate change. 
CTS has gone from supplying hardware such as telephones and switchboards to becoming a designer and manufacturer of sensors, actuators and electronic components. CTS is headquartered in Elkhart, Ind., and has additional locations in the U.S. and around the world.
Renewed Focus
Among the biggest changes that CTS has implemented in recent years has been the divestiture of roughly 40 percent of the business to simplify its operations, focus on core areas and drive profitable growth. In 2013, the company sold off its Electronics Manufacturing Solutions business to Benchmark Electronics for $75 million. By selling that part of the business, CTS became better positioned to focus on the sensors, actuators and electronic components business.
---