DeLine Box & Display
---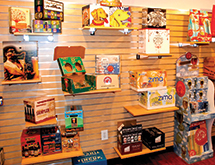 It is difficult to maintain a legacy, but family owned DeLine Box & Display has accomplished that feat, fourth-generation owner Dave DeLine says. Based in Denver, the company is the only independent, full-line box company in its region. 
DeLine Box manufactures multiple corrugated products, including retail boxes, point-of-purchase displays, shipping containers and die-cut products for clients such as Hunter Douglas, Crocs Retail Inc., Celestial Seasonings and New Belgium Brewing Co. "We have over 100 years of manufacturing in Denver and manufacturing in packaging," Dave DeLine states.
His family's legacy in the box industry began with his great-grandfather, I.A. DeLine, who founded a packaging company in 1912 that manufactured solid fiber boxes. "One of his biggest claims to fame was that he automated [the manufacture] of the heart-shaped candy box," Dave DeLine says. His grandfather, Edwin Francis DeLine, took what he learned from his father's business and started his own in 1933, making corrugated products. Dave DeLine's father, Howard Irving (Jim) DeLine, worked for the company.
Jim DeLine later founded DeLine Box in 1972. "At that time, we were just a sheet plant," Dave DeLine says. "We bought all of our materials from outside organizations and converted them into boxes." Under the elder DeLine's leadership, the company installed its own corrugator. "Now we buy the rolls of paper and convert them into corrugated boxes," he says. 
---