Detroit Chassis LLC
---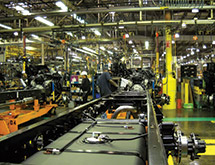 Detroit Chassis LLC provides more than just vehicle chassis and automotive components to one of the nation's best-known brands – it also offers hope and opportunity to a city in need.
The company, located in Detroit's Renaissance Zone – which offers tax-free status to businesses located there to encourage economic development – is as concerned about hiring local people and supporting community organizations as it is manufacturing quality products. 
"We are committed not just to delivering joy to our customers, but improving the economic situation of the community we serve," Vice President of Business Development Anderson Dobbins says.
---