Electro Freeze
---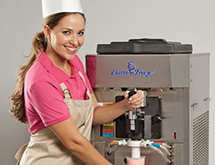 In 1946, H.C. Duke & Son LLC was a commercial laundry equipment repair company that fielded an unusual request. A small ice cream franchise asked the company to build an ice cream freezer for its stores, and what it developed was the first pressurized soft-serve ice cream machine. 
Armed with this innovative new equipment, the small ice cream chain began opening up new franchises all over the country, and today Dairy Queen is one of the biggest names in the market. H.C. Duke & Son soon left the commercial laundry equipment market to concentrate entirely on ice cream machines, purchasing the Electro Freeze brand in 1969 to expand its reach outside of Dairy Queen. 
Today, Electro Freeze remains one of the biggest and most trusted names in soft-serve ice cream technology, with a network of distributors that spans the globe. Vice President of Sales Penny Klingler says the company's tradition is one of innovation, and that continues to be its focus to this day. "One of the things we pride ourselves on is our ability to be first in the market for some unique operational innovations," she says. 
Among the innovations Electro Freeze has introduced to the world of soft-serve over the years are the twist freezer, the mix-in flavor blender and slush freezers with a neutral base. As the needs of Electro Freeze's customers continue to change, the company works tirelessly to address those needs with new products such as its most recent development, the Genni™ mobile app that monitors machines remotely. Through the company's manufacturing capabilities and engineering expertise, Electro Freeze has the tools in place to continue serving its customers with innovative equipment for years to come. 
---