Elyria Foundry
---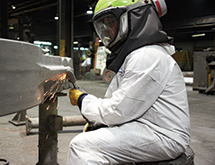 Discovering and implementing the best ways to engineer iron castings has been a continually evolving process for Elyria Foundry. The Elyria, Ohio-based company has honed its craft more than 100 years.
"We're probably one of a handful of companies that can produce the type of complex castings we are able to create," explains COO Henry Lee. "There is a great deal of engineering that goes into these parts."
Founded in 1905, the company began producing castings for the machine tool and gas engine industry. Since then, Elyria Foundry has ventured into other industries, including mining and minerals processing, gas and air compression, construction, agricultural, passenger rail and general industrial applications. 
In 2008, Elyria Foundry merged with Hodge Foundry in Greenville, Pa., to become "the dominant supplier of complex gray and ductile iron to the world casting market," Lee explains. This merger enabled the firm to offer parts weighing as little as 20 pounds up to those as much as 200,000 pounds. 
Hodge Foundry began in 1876 as a brass foundry. During its history, that foundry changed its production capabilities to gray iron/ductile iron and also began offering machining services. Currently, both foundries offer machining services using its network of third-party machine shops.
---